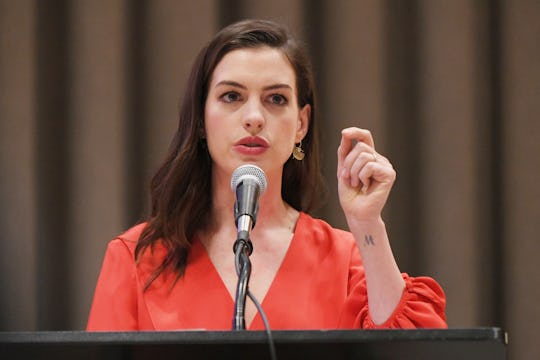 Mike Coppola/Getty Images Entertainment/Getty Images
Anne Hathaway Knows Planning Kid's Birthdays Is Hard
What is it about kids' birthday parties that drives every parent crazy? Birthday parties are perhaps one of the best parts of life — from the cake, to the activities, to being surrounded by people who are there to celebrate you. But for parents, birthday parties can definitely be the opposite, especially when there is so much to plan and get right. Even celebrities understand this hardship — which is why Anne Hathaway's quote about planning kids' birthdays is something almost every parent and non-parent can relate to. Because we've all been there.
With websites like Pinterest providing an endless source of inspiration and envy, birthday party planning is even harder now than ever before. It not only makes your own ideas seem lame — but also makes the idea of creating a life-sized rainbow out of balloons seem like a reasonable DIY project. No one knows this better than Anne Hathaway. Hathaway's son, Jonathan, turned 1 in March — which meant Hathaway had to plan her first kid's birthday party just weeks ago. Hathaway stopped by The Ellen Show to promote her new movie, Colossal, and express her frustration with planning a kid's party for the first time — turns out, its not as easy as it looks.
Hathaway told host Ellen DeGeneres:
I made the mistake...I went on Pinterest and looked at other people's 1-year-old parties. It's not fair what some people do. Party planners have children, which is definitely not fair. Think about it.
It's especially not fair to compare yourself to other Pinterest moms — knowing that your 1 year old is probably more concerned about eating their cake, rather than the Daniel Tiger themed decorations their parents spent hours working on the night before — not that your child will even remember their first birthday party. Instead, Hathaway revealed that her and husband Adam Shulman, planned a "low-key" party with a rainbow theme — which sounds like the perfect party for a one year old.
With just one year of parenting under her belt, Hathaway is finally opening up about her experiences so far as a mother — from party planning to the decision to share a photo of her son on the internet. "I had never posted a photo of a son, and I decided to post a shot of the back of his head, and almost as soon as I'd done it, I wished I hadn't," Hathaway told Jezebel. "I felt like I had broken some kind of seal in inviting people into my life."
Hathaway's recent comments — on privacy and Pinterest party planning — are completely honest and relatable.