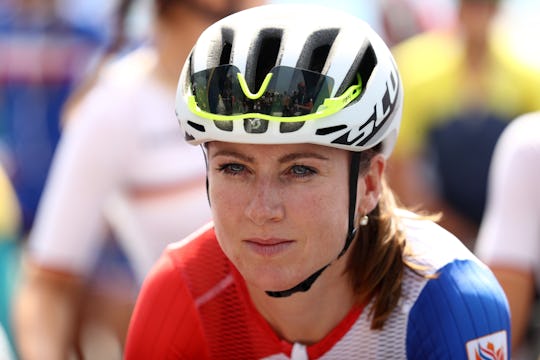 AFP/AFP/Getty Images
Annemiek Van Vleuten Tweets An Update After Race Crash That Left Her Seriously Injured
Dutch cyclist Annemiek van Vleuten was in an awful crash and sustained serious injuries in Rio, an accident some are blaming on Olympic officials in charge of setting up the track. She lost control just 10 kilometers from the finish line and appeared to hit her head. The Olympian now appears to be conscious. On Sunday night, Annemiek Van Vleuten tweeted an update after crashing, and while the Olympian has got to be devastated the Rio Games ended this way for her, it sounds like she's recovering from the crash some observers thought could have been fatal.
Van Vleuten's teammate from the Netherlands, Anna van der Breggen, ultimately finished first and took the gold medal in the race after van Vleuten's crash, and told The Guardian, she was rattled by the awful wreck.
"It looked pretty bad," van der Breggen said. "I thought she was dead. No one did anything about it. It's the most important day in your career. When you see something like that, it really does not matter anymore."
According to USA Today, Van Vleuten was knocked unconscious by the crash for a "considerable period of time," Cycling Team Manager for the Dutch Johan Lammerts said. Take a look at the vicious crash.
Following the accident, Van Vleuten was taking to the hospital. Former cycling gold medial winner Chris Boardman said he recognized before the crash that the course was too dangerous.
"I'm actually quite angry about it because I looked at the road furniture and thought: 'Nobody can crash here and get up,'" Boardman told The Guardian. "This was way past technical, this was dangerous, and it means people who designed the course have seen it and left it. I'm angry about it because I went down there and had a look at the course and saw those edges. We knew this was way past this being a technical, this was dangerous."
The Guardian reported that Van Vleuten was kept overnight in the hospital's intensive care with a concussion and three cracks in her spine. But the physical injuries might not be as painful as the disappointment of crashing while leading arguably the biggest race of Van Vleuten's career. Here's what the Olympian tweeted from her hospital bed.
Before accepting the gold medal for the race, Van Vleuten's teammate Van Der Breggan was crying, reportedly over her teammate's crash, and had to be consoled by fellow medalists, Emaa Johansson of Sweden, who won silver, and Italy's Longo Borghini, who won bronze.