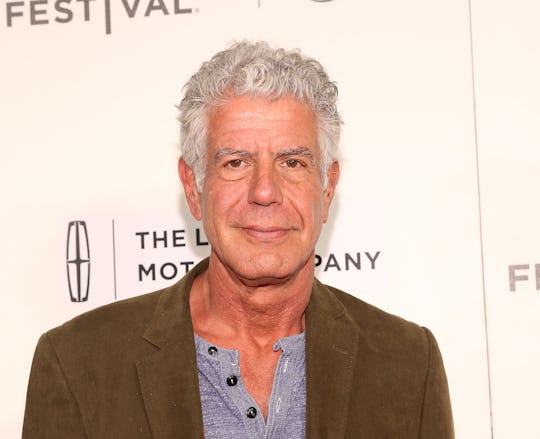 Robin Marchant/Getty Images Entertainment/Getty Images
Anthony Bourdain Is Dead At 61 & Fans Of The Iconic Chef Are Heartbroken
On Friday morning, June 8, news broke that iconic celebrity chef Anthony Bourdain has died at the age of 61, according to CNN. Immediately following the news of his passing, fans of the renewed author and host of the award-winning travel food show, Parts Unknown, took to social media to share their heartbreak. Romper's request for comment from Bourdain's representatives was not immediately returned.
CNN reported that Bourdain died by suicide. "It is with extraordinary sadness we can confirm the death of our friend and colleague, Anthony Bourdain," his representatives told the network in a statement. "His love of great adventure, new friends, fine food and drink and the remarkable stories of the world made him a unique storyteller. His talents never ceased to amaze us and we will miss him very much. Our thoughts and prayers are with his daughter and family at this incredibly difficult time."
At the time of his death, according to The New York Times, Bourdain was in Strasbourg, France filming an episode of his CNN show, Parts Unknown. Beyond his most recent work on Parts Unknown, Bourdain was admired by fans from all around the world for his culinary expertise and knack for vivid storytelling, bringing his viewers and readers along with him on his adventurous travels through food, wine, and, most notably, the people he met along the way.
It was one of the many reasons why he was loved by so many, from all walks of life and from every corner of the world. After news broke of Bourdain's passing, longtime fans and celebrities alike took to Twitter to share their condolences and heartbreak.
Cookbook author Chrissy Teigen shared on Twitter that Bourdain was "one of my idols" and she described the famous chef as "unapologetic, passionate and one of the best storytellers on the planet."
Food writer for The New Yorker wrote on Twitter that Bourdain's death "is an inexpressible tragedy."
Countless more fans took to Twitter on Friday morning to share how Bourdain had left a mark on their lives.
Whether it was though his writing — he was perhaps most famously known for his memoir Kitchen Confidential — or through his TV hosting career, Bourdain had a captivating way of capturing all sorts of culture, from fine dining in Paris to the nitty gritty behind-the-scenes details of life working in a restaurant in New York. His work won on Parts Unknown won him a Peabody Award in 2013 for "expanding our palates and horizons in equal measure," the award's page on him reads.
Bourdain's impressive career kicked off nearly two decades ago in 1999 with a piece in The New Yorker entitled, "Don't Eat Before Reading This," according to CNN. His fame rose over the years, landing his first hosting gig on The Food Network on the show, A Cook's Tour, from 2002 to 2003, according to Fortune. Before launching his hit CNN series, Parts Unknown, Bourdain starred on the Travel Channel's No Reservations for nearly seven years, according to The New York Times.
Bourdain is survived by his 11-year-old daughter, Ariane, as TIME noted, whom he once described as a "very harsh critic" when he it came to his cooking, according to The Takeout. "You know, I put a tiny tiny little bit of nutmeg in my macaroni and cheese and she did not enjoy that. She called me on it right away," Bourdain told The Takeout of his daughter in 2016.
Bourdain's wit, humor, and insurmountable talent in the kitchen are just a few reasons his legacy has left an impact on his countless fans and, undeniably, the culinary world.
If you or someone you know are experiencing suicidal thoughts, call 911, or call the National Suicide Prevention Hotline at 1-800-273-8255 or text HOME to the Crisis Text Line at 741741.