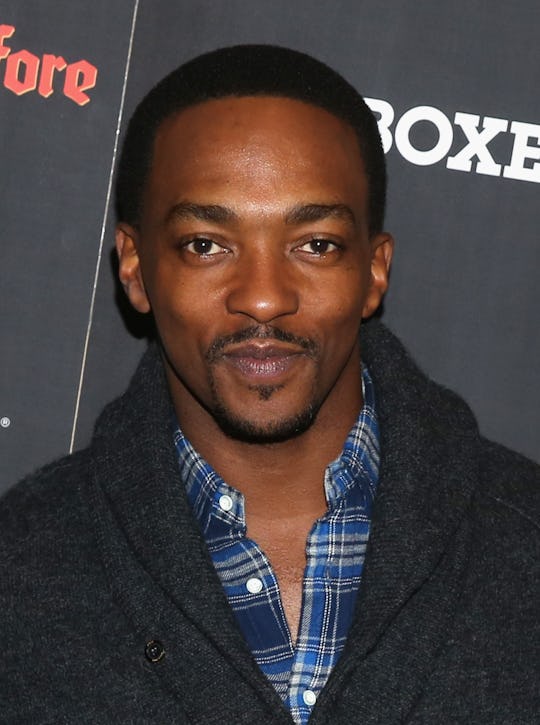 Cindy Ord/Getty Images
Anthony Mackie Welcomes A Third Kid, & So Far, Baby No. 3 Is Totally Throwing Him For A Loop
It seems like celeb babies are just popping out left and right lately. During a Nov. 13 LA Times interview about his new movie The Night Before, Anthony Mackie said he welcomed his third child with wife Sheletta Chapital recently. And despite this being their third child, he admits a lot has changed since adding the new bundle of joy to their family.
During the interview, the actor was asked if the plot of his upcoming film — in which he and co-stars Joseph Gordon-Levitt and Seth Rogen celebrate a crazy Christmas Eve before going back to married life — drew any parallels to his own life. It was then Mackie somewhat casually mentioned just how much the recent birth of his third child "messed up everything that was my reality." (Yea — he totally went there.) Mackie continued:
It just changes your entire perspective on the world. Even traveling is an issue now — I've got to buy five tickets! I look at my parents — they had six kids. I always wondered why we never took vacations further than Florida or the Gulf Coast — it's like, 'Oh, because they couldn't afford eight plane tickets, so you just put all the kids in the Lincoln and drive to Florida!'
Mackie isn't the only one in the Night Before crew to recently become a pop. The film's director and co-writer, Jonathan Levine, Gordon-Levitt and himself all had children within months of one another. Gordon-Levitt, who had his first child with Tasha McCauley in August, said in the interview that he found the baby plot in this movie "sweet and actually quite subtle and honest and way more resonant to me than your average Hollywood comedy about new parenthood."
Let me join in with the good people of Twitter when I say: Congrats to the couple!
Image: Cindy Ord/Getty Images