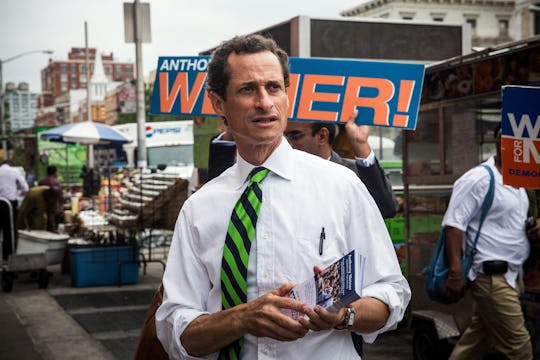 Andrew Burton/Getty Images News/Getty Images
Anthony Weiner Will Reportedly Plead Guilty To Sexting A Minor
Former Democratic Congressman Anthony Weiner will reportedly plead guilty to sexting a 15-year-old girl when he appears in court Friday, according to The New York Times. Weiner's plea is said to be part of an agreement with the United States attorney's office in Manhattan, linked to an investigation that began in January 2016 over allegations that Weiner exchanged sexually explicit texts with a minor in North Carolina. While his sentence is still to be determined, Weiner could be given up to 10 years in prison and may be required to register as a sex offender.
Update: Weiner's rep told Romper in a statement Friday that by pleading guilty in court, the former congressman "accepted full responsibility for the inappropriate, sexually explicit communications he engaged in early last year," and that the plea agreement reflected "the specific circumstances of the offense conduct in this case."
According to the Associated Press, the FBI's investigation into Weiner began after the girl he was allegedly in contact with told British tabloid The Daily Mail that she and Weiner had been exchanging explicit messages for "several months," and that he'd also allegedly asked her to undress on camera. But it certainly wasn't the first time that he'd been accused of online misconduct: according to CNN, after a lewd photo was shared to Weiner's Twitter account in May 2011, the former representative claimed he'd been hacked, and dismissed it as a prank. But a month later, Weiner admitted that he'd engaged in "inappropriate online relationships with several women," and that he'd lied about his account being hacked. In a tearful public apology, Weiner said, "To be clear, the picture was of me, and I sent it."
According to ABC News, Weiner's guilty plea will likely be in relation to one count of transferring obscene material to a minor, and he is said to have turned himself into authorities earlier this morning. In her interview with The Daily Mail last September, the unnamed girl claimed her online relationship with Weiner began in January 2016, and that she did not want to press charges against him because she believed their relationship to be "consensual." In a statement to The Daily Mail, Weiner declined to comment on the girl's specific allegations, but said he has "repeatedly demonstrated terrible judgement about the people I have communicated with online and the things I have sent," and that he was "filled with regret and heartbroken for those I have hurt.'
The latest investigation into Weiner's conduct didn't just affect him, however. According to ABC News, the FBI's controversial decision to reopen its review of former Secretary of State Hillary Clinton's private email server shortly before the Nov. 8 presidential election was actually prompted by the Weiner investigation. A device used by Weiner and his estranged wife, Clinton presidential campaign vice-chair Huma Abedin, was discovered by officials investigating the Weiner case, and Abedin had an email address on Clinton's private server. No charges were brought forward as a result, though many speculated that the renewed investigation was a ultimately a factor in Clinton's election loss.
Abedin separated from Weiner in August 2016, according to ABC News, six years after the couple married in 2010, and five years after Weiner's 2011 Twitter scandal, when Abedin was pregnant with their son. According to CNN, Abedin released a statement following the split, and said,
After long and painful consideration and work on my marriage, I have made the decision to separate from my husband. Anthony and I remain devoted to doing what is best for our son, who is the light of our life. During this difficult time, I ask for respect for our privacy.
Though Weiner's decision to plead guilty is expected, The New York Times noted that he still has the right to opt out until he's actually called on to enter a plea. Further details on the case, including the judge's decision about sentencing, won't be known until after Weiner appears in court.