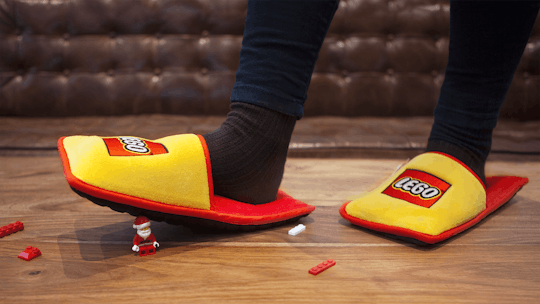 Anti-LEGO Slippers Now Exist, And Here Are 5 Other Everyday Parenting Problems We'd Like LEGO To Solve — PHOTOS
Few things spark fear in the hearts of parents and caregivers the same way that LEGOS strewn on a floor do. Meet anti-LEGO slippers, courtesy of LEGO and their advertising agency, Brand Station. This product, as I understand it, is very necessary. The LEGO-to-foot pain is unbearable. As the kids are saying these days, the struggle is very, very real. You might even say it's off fleek. While my own son is too young for LEGOS, we do have have a set of jumbo faux blocks so I've had a chance to practice my obstacle course navigation skills. I still can't say that I'm ready for the real thing. If only there was some sort of indoor-appropriate, branded foot covering we could wear to protect our delicate toes from their sharp edges of doom... alas, now there is!
Until anti-LEGO slippers are in every household, we shall never be fully safe. There are millions of parents with children in the thick of their LEGO years, which means there are millions of parents at risk of their normal lives being ground to a halt by excruciating, debilitating pain. Because I am a twelve on the scale of one to clumsy (I regularly stub my toes on our baby gates despite the fact that we've been using them for years with our pets), I consider this invention to be a glorious one. With that, allow me to offer a gentle mouse click of solidarity to parents with this, and other child-related foot ailments. I humbly hope we can all find a solution as clutch as this one:
Also, I know what you're thinking: Why aren't we all just wearing, like, regular slippers? Aren't these just as good as normal-ass slippers? Is there a difference? Good question. Give me just one minute to think about it...
...
...
OK, fair point. I'm sure there is a reason why we aren't all wearing regular slippers, I just can't think of it right now. And because it's been reported that only 1,500 pairs of Anti-LEGO slippers are going to be gifted to winners of a drawing, that's what the rest of us will probably need to do.
Now that this one problem is solved, I'm thinking about a few other parenting inconveniences I could use LEGO's help with: