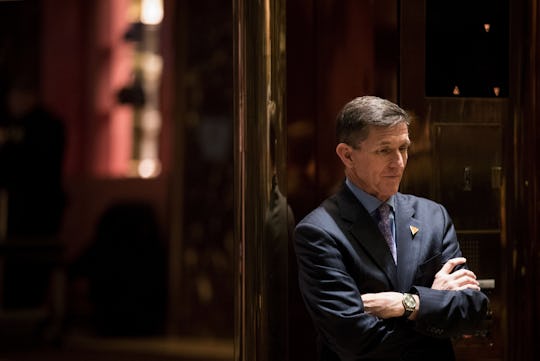 Drew Angerer/Getty Images News/Getty Images
Anti-Muslim Group Reportedly Says It Has 'Direct Line' To White House
On Tuesday, according to the Huffington Post, nonprofit organization ACT for America reportedly sent supporters a fundraising email claiming to have a "direct line" to President-elect Donald Trump. The anti-Muslim group claimed to have influence in Trump's administration, and founder Brigitte Gabriel said the organization was "immeasurably optimistic about the future" under a Trump presidency.
"Two of our board of advisors Dr. Walid Phares and General Michael Flynn were, and will continue to be President-elect Donald Trump's National Security Advisors," Gabriel reportedly wrote. "In addition to this, the next CIA Director Rep. Mike Pompeo has been a steadfast ally of ours since the day he was elected to Congress."
Gabriel isn't wrong. Phares, Trump's foreign policy advisor, is indeed a former ACT for America board member. According to New Republic, Phares also drew criticism from Muslim advocacy groups in 2011 due to to his former involvement with a right-wing, anti-Muslim, Christian militia group in Lebanon.
Phares isn't the only tie ACT for America has to Trump's administration, either. Flynn, Trump's national security adviser, is currently a sitting member on ACT for America's advisory board, and in the past year, he drew plenty of fire for his reportedly anti-Muslim stance. In February, he tweeted that fear of Muslims was "RATIONAL," and in July he challenged Arab and Persian leaders to "step up to the plate and declare their Islamic ideology sick." On top of that, during a speech in August, Flynn said, "This is Islamism, it is a vicious cancer inside the body of 1.7 billion people on this planet and it has to be excised."
ACT for America, which calls itself "the NRA of national security," has been labeled a hate group by several organizations that fight prejudice, such as the Southern Poverty Law Center, the Anti-Defamation League, and the Center for New Community, according to BuzzFeed. "In the Muslim world, extreme is mainstream," Gabriel wrote in her first book, Because They Hate: A Survivor of Islamic Terror Warns America. She claimed a cancer was taking over the world, according to The New York Times, writing, "The cancer is called Islamofacism. This ideology is coming out of one source: The Koran."
Romper reached out to Trump's transition team for comment, but has yet to hear back. One thing, however, is clear: Regardless of whether ACT for America has a "direct line" to the president-elect, it certainly has influenced several members of his Cabinet. And for those concerned with equality in the United States, that should be worrying enough.