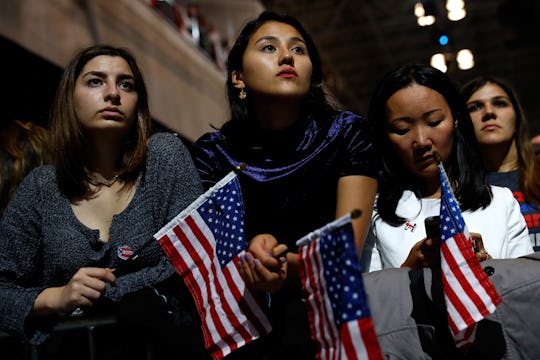 Aaron P. Bernstein/Getty Images News/Getty Images
Anti-Trump Protests Around The Country Are About Solidarity & First Amendment Rights
Stronger, Together: That has been former Secretary of State Hillary Clinton's presidential campaign slogan and rallying cry for the past year and a half. Even on Wednesday morning, as Clinton gave her concession speech, she encouraged and reminded supporters there is still much work yet to be done, saying, "We need you to keep up these fights now and for the rest of your lives." As the nation comes to terms with calling GOP candidate and businessman Donald Trump "President-Elect," the fight has begun. On Wednesday night, anti-Trump protests are happening around the country, if they haven't started already in some cities and communities.
While some might label these anti-Trump protesters as sore losers who are overreacting, it's important to remember that just as every eligible citizen over 18 had the right to vote in Tuesday's election, so too does every single person in America have the "right of people to peacefully assemble." That's line number uno in our country's Bill of Right: It is the founding principal of our nation.
The invocation of that right to peaceful assembly is just as patriotic as stepping up to the ballot booth, as just as American as ushering in the next leader of our country. The "Land of the Free" is more than just a catchy closing line in our nation's anthem: It's what defines our country in the eyes of the world. Our rights to free and fair elections, to peaceful assembly — and the key word here is peaceful — they define what it means to be American.
For any American who seeks to invoke their First Amendment right, speak out against Trump, and believes that love trumps hate, here are just a few of some of the anti-Trump protests and rallies scheduled to take place in six major U.S. cities on Wednesday night.