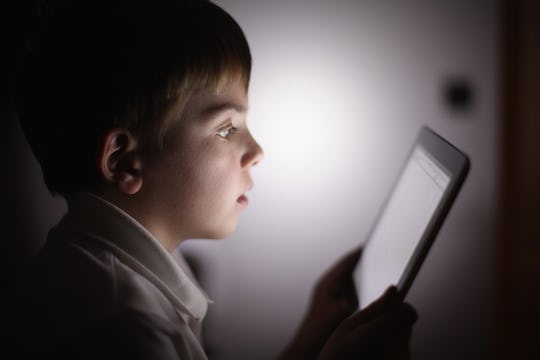 Christopher Furlong/Getty Images News/Getty Images
Parents, Your Life Is About To Get A Whole Lot Easier With This New Feature On Apple iOS 12
If you're anything like me, the iPad is both a blessing and a curse when it comes to parenting. On one hand, the device can be a lifesaver while waiting with hangry children at a restaurant, or just to distract the kiddos for a short period of time while I finish up with a household task. On the other hand, screen time in general can be a slippery soap. Sometimes, my kids grab the iPad without my knowing. And without fail, my younger two end up on YouTube watching other kids playing with toys/some sort of unboxing of toys/creepy animated content to the tune of "Daddy Finger." (Caregivers, you know exactly what I'm talking about.) That's exactly why Apple's new screen time control feature will be a lifesaver for parents.
On Monday, Apple revealed new features — which will be built into iOS 12 — that aim to "help customers understand and take control of the time they spend interacting with their iOS devices," according to a news release. (aka, shut that bizarre YouTubing down.)
"In iOS 12, we're offering our users detailed information and tools to help them better understand and control the time they spend with apps and websites, how often they pick up their iPhone or iPad during the day and how they receive notifications," Craig Federighi, Apple's senior vice president of software engineering, said in the news release. "We first introduced parental controls for iPhone in 2008, and our team has worked thoughtfully over the years to add features to help parents manage their children's content." Federighi added:
With Screen Time, these new tools are empowering users who want help managing their device time, and balancing the many things that are important to them.
One cool new feature coming our way includes parents being able to access a report of their child's activity via the Activity Report, as The Guardian reported. There — on their own iOS devices — parents can see exactly how their child spends his/her time, and can set app limits if they wish.
When a child approaches the time limit, they'll see a reminder pop up on the screen. From there, they can request more time from parents — or else the app simply won't work anymore for the day.
Another awesome Screen Time option for parents is setting scheduled Downtime away from the device, as Tech Crunch reported. Parents will be able to set a block of time that limits what apps can be used. While in Downtime, no notifications from apps will be displayed and a badge will appear on apps indicating they aren't allowed to be used. Parents can choose additional apps that will always be available — such as Books or Phone, for example. Pretty handy for older kids who sneak devices to their bedrooms at bedtime, huh?
In an effort to help minimize distraction through the day, iOS 12 will also allow users to control how their notifications are delivered, as The Guardian reported. This includes being able to group together notifications, or shutting them off altogether. Updates to the "do not disturb" option will soon include a bedtime mode, which will dim the display and hide notifications on the lock screen until morning time. Managing notifications in this way seems like it would be amazing for parents of older children and teens. That way, there could potentially be fewer interruptions during study time/meals/whatever.
In case you were wondering, because Screen Time is account-based, it will work across all of a child's iOS devices, according the news release from Apple. (So everything is based on the total usage, not just by device.) Parents have the option of changing Screen Time settings remotely on their own device or on the child's device itself.
I'm not gonna lie; I want these Screen Time features like, pronto. However, it looks like I'm going to have to wait until later this year, when iOS 12 becomes available, as The Guardian reported.
As handy as these tools will be for parents to regulate kids' technology use, I have a feeling my habits will soon be changing, too. Some days, my iPhone usage is pretty ridiculous. And soon, I'll be able to see exactly how much time I'm spending staring at my phone while mindlessly scrolling through Facebook. Which is terrifying, to be honest. But maybe it's exactly the wake-up call I need to make some serious changes. Because my kids aren't the only ones who need an intervention.