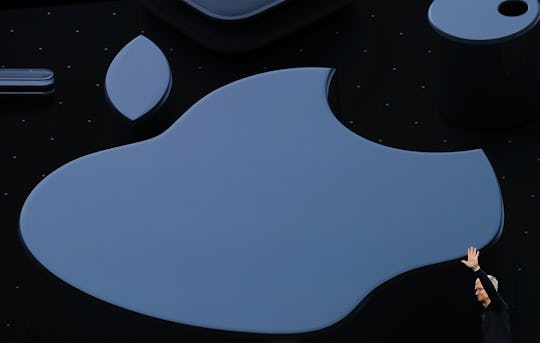 Justin Sullivan/Getty Images News/Getty Images
iPhones, iPads, & More: Here's What You Can Expect From Apple's Live Event
It's that time of year again, folks. September is a big month on the tech calendar as Apple gears up to announce more updates. Whispers around the net have suggested for some time that Apple users can expect some exciting new devices this year. Here's what is known about Apple's rumored new iPhones, and what to expect from their live event on Wednesday, Sept. 12.
During the live event on Wednesday, Apple is planning to unveil three new iPhones that boast bigger screens and higher starting prices, according to The New York Times. An unnamed source with inside information reportedly told the Times that the new models will include a new entry level iPhone to replace the iPhone 8 and 8 Plus with a larger display, 6.1 inches. Additionally, last year's 5.8-inch iPhone X will be updated for speed.
While Apple has long live-streamed product announcements, this will be the first year that the whole of its event will be available for viewing on social media, according to TechCrunch. The announcement will be streamed over Twitter. Earlier this year, Apple opened its streaming to users on Google Chrome and Firefox, instead of just over Safari and Edge on desktops, The Verge reported. Apple's Twitter is infamous for only running paid ads, and the event is no different. When the ad shown below appears on Twitter, anyone who likes it will receive updates from Apple about the live event once it begins. Apple's event begins at 10 am PT/1 pm ET on Wednesday and will take place at the Steve Jobs Theater at the Apple HQ in Cupertino, California.
Other rumors circulating include the new iPhone Xs and iPhone Xs Max. 9to5Mac reported that the Max is expected to be the heaviest model put out by Apple — weighing 7.34 ounces — have dual SIM, and four holes on one side of the Lightning port and seven holes on the other side. The Apple Watch could potentially be upped to 64-bit, in line with iPhone, iPad, and Mac processors, as opposed to its current 32-bit software.
Along with new iPhones, MacWorld reported that fans can possibly expect a new iPad. The iPad was updated earlier this year, but nearly a year has passed since the iPad Pro was updated. The new version could include features such as a Face ID camera instead of Touch ID, and exclude the home button. Another announcements could include a new Apple Watch, as well as Mac, HomePod, and AirPod updates. There is also potential for final details on the latest OS updates, iOS 12 and macOS Mojave. They were first announced at WWDC 2018.
In some less exciting news, the Times reported that the prices of these new Apple products will likely continue to rise:
The new entry-level iPhone may start at $749, with the 5.8-inch iPhone X coming in at $949 and $1,049 for the giant 6.5-inch-screen model, analysts estimated. In contrast, just a few years ago Apple's iPhones started at $649 for the smaller model and $749 for the larger one.
If after all of these updates you're still fiending for more, MacWorld reported that there could be an Apple October 2018 event. In some particularly busy years, Apple has followed up its September event with a smaller one in October that offers up iPads and Mac updates. The last October event was in 2016, and brought with it the MacBook Pro with touch bar. Only time will tell if another event will follow this one, but in the meantime, you can put Wednesday's event on your calendar and see what the big brains at Apple have in store for you this year. Am I the only one hoping that headphone jacks will make a comeback?