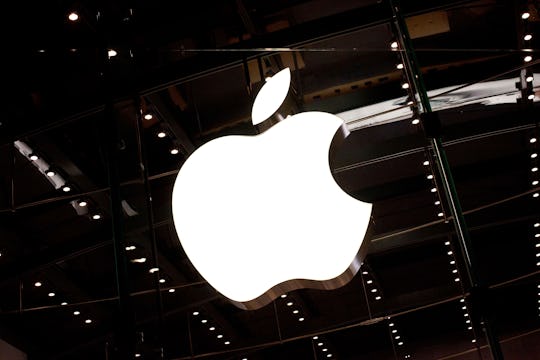 Andrew Burton/Getty Images News/Getty Images
Apple Speaks Out On Trump's Trans Rights Move
On Wednesday, President Trump removed the protections for transgender students that were put in place last year by former President Obama. The Department of Justice had sent a letter to every public school in the U.S., advising them that if they did not allow transgender students to use the bathroom or locker room consistent with their gender identity, rather than biological sex, the school could lose their federal funding. Trump has rescinded this advisement, and people are already speaking out. Apple's statement on Trump's transgender bathroom stance shows why brands can no longer afford to stay silent on political issues.
Last year, President Obama informed public schools across the nation that if they failed to permit transgender students to use the bathroom or locker room that matched their gender identity, rather than their biological sex, they could be sued by the federal government and/or lose their federal funding. While this was a formal recommendation rather than a law, the intent was clear: creating protections for at-risk transgender youth.
Suicide and self-harm rates among youth in the LGBTQ community are four times greater than rates in straight youth, according to The Trevor Project. By adulthood, 40 percent of trans individuals report having made a suicide attempt, with 92 percent saying their first attempt was before the age of 25.
That's one reason why Obama's recommendation about bathroom access for trans individuals was so vital: not being able to access these public spaces isn't a matter of preference — for many, it's a matter of personal safety. Being forced to enter spaces where they are considered unwelcome not only makes trans youth vulnerable to bullying by peers, but violence. Bathrooms and locker rooms are inherently vulnerable places, and for many youth they are a frightening place to go alone. For trans youth, these spaces have actually become dangerous.
As people began to protest Trump's rollback of the requirement, one brand in particular spoke up with a bold criticism of the administration's decision. In a statement to Axios, Apple took a stand against Trump's stance:
Apple believes everyone deserves a chance to thrive in an environment free from stigma and discrimination. We support efforts toward greater acceptance, not less, and we strongly believe that transgender students should be treated as equals. We disagree with any effort to limit or rescind their rights and protections.
As one of the most recognizable brands in the world, Apple's influence is apparent across economic and social spheres worldwide. Data presented on their website about the demographics of new hires shows the company's commitment to inclusion and diversity. "We strive to better represent the communities we're part of," the page reads, "We believe this will help to break down historical barriers in tech."
The data presented, updated as of June 2016, shows new hire rates in "underrepresented minorities", including women and people of color, but their overall employee demographics are still predominantly white males. Apple's shareholders have called for increased efforts to promote inclusion and diversity, and are urging the company to step up its game. Romper reached out to Apple for comment on inclusion and diversity, and while they had no further comment they did point to their response to the shareholder's proposal, wherein they stated that diversity is "essential to Apple's future", and that Apple has already "demonstrated to shareholders its commitment to inclusion and diversity, which are core values for our company."
Apple's statement shows that at least it is aware of what marginalized communities are facing. Joining other major brands that have stepped up, like Starbucks and Nordstrom, Apple is taking the lead when it comes to companies stepping up and speaking out. In this day and age, companies can't afford to stay silent on political issues that impact their consumers, their employees, and now even their employees' children.