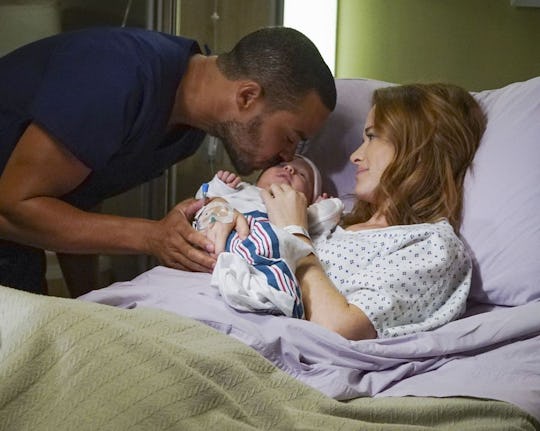 Eric McCandless/ABC
April & Jackson Are On Tinder On 'Grey's Anatomy' & Maybe That's A Good Thing
In this day in age almost everyone is on some kind of dating app. Coffee Meets Bagel, Hinge, OkCupid, and the always popular, Tinder. Well now it seems April and Jackson have joined Tinder on Grey's Anatomy, though the latter doesn't seem all that happy about it.
Jackson and April may be living together with their daughter, Harriet, but they're still technically single and apparently April is ready to get back out there, given the constant Tinder pings that kept going off on her phone. What led her to try out the app remains unknown, however, it's been fun watching her test out this new modern-day way of dating. First, she seemed a bit frightened and perhaps slightly overwhelmed by the whole thing. Then she had to ask Stephanie for help trying to figure out her matches and messages. It was then that she discovered someone had asked her out for drinks and decided to go for it, much to Jackson's surprise.
When April was leaving the house for her date, Jackson couldn't believe April was actually on Tinder, though, as she quickly pointed out to him — so is he. In fact, they had actually matched on the app, which is how April found out he was on there as well. So the way I see it is this is either a sign that they're meant to be or just a reminder that they live in the same house. (Gotta love that proximity factor.) Either way, April swiped left since they're divorced, so they won't be going out on a Tinder date anytime soon. Instead, April headed out to her date and apparently, as is the case with a lot of Tinder dates, it didn't go as well as she had hoped.
Naturally, April didn't want to admit to Jackson that the date was an epic fail, and opted to tell him it was amazing instead. Later, though, when Jackson suggested they not discuss their dating lives with each other anymore, April confessed that the date was actually terrible, admitting that she even faked getting a page so she could leave early. April then remarked how she's never had to date before and doesn't really know what she's doing since all of her prior relationships started out as friendships first. But Jackson commended her on getting back out there and encouraged her not to give up. It was a nice gesture, for sure, but April didn't seem happy that Jackson was so OK with her dating a different guy. But later on, when Jackson convinced her to go back out for another date with same guy from before, he didn't seem all that thrilled to see her go.
So, even though April's now on Tinder and open to dating other people right now, this may not mark the end of Japril just yet. In fact, it could be laying the foundation for them to finally get back together. Keep your fingers crossed!