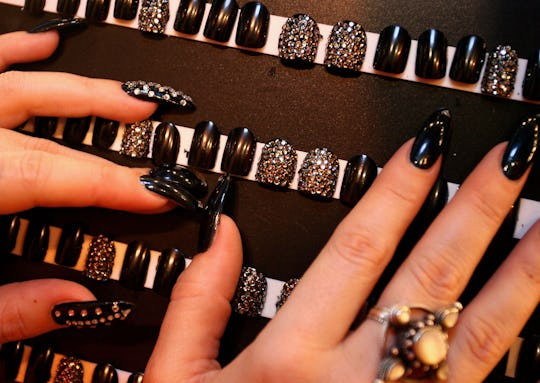 Lisa Maree Williams/Getty Images Entertainment/Getty Images
Are Acrylics Safe When Pregnant?
When my sister found out she was pregnant, it was one of the best moments of her life. She was overly ecstatic about the new bundle of joy coming into her life, and couldn't wait to see how her life would change. Though she knew that she would have to change a few things in her life during her pregnancy, one thing she wasn't sure of was her standing bi-weekly appointment at the nail salon. That's when the question of the hour hit: are acrylics safe when pregnant?
Although many women continue to keep their appointments to get their nails done throughout their pregnancy, my sister wanted to make sure she was handling everything as well as possible. That meant making the decision to remove wearing acrylics out of her beauty routine until the pregnancy was over if needed. Fortunately for her though, that wasn't the case.
According to the research on Baby Center, it is perfectly fine to wear acrylic nails during your pregnancy. However, the thing that you should be concerned about is the ventilation in the salon while getting them applied. Since salons are known for using strong chemicals, ensuring that you are only exposed to them for a limited amount of time is important to keep in mind when pregnant. Parents suggested visiting the salon early in the day to decrease the amount of fumes that you are exposed to. The site went on to note that finding a salon that chooses products with ethyl-methacrylate over methyl-methacrylate (which is a harsh chemical used to apply acrylic) could be helpful, too.
Although wearing acrylic nails is OK to do throughout your pregnancy, the key to doing so is ensuring that the area you're in is well ventilated. If you feel uneasy or lightheaded at any time, you should leave the space you are in immediately.
Still reluctant about keeping your acrylics on during your pregnancy? You can opt to keep them off during your first trimester as this is when your baby is developing the most. However, since no two women have the same type of pregnancy, be sure to consult your doctor to see at what point (if any) wearing acrylics will be OK during your pregnancy.