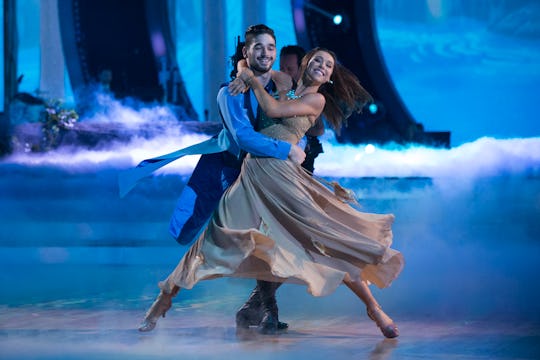 Eric McCandless/ABC
Alexis Ren and Alan Bersten's Chemistry On 'DWTS' Is Undeniable
Season 27 of Dancing with the Stars is in full swing, and there's one dance pair that has everyone talking. Model Alexis Ren and her expert dance partner Alan Bersten haven't just been killing it with their moves on the dance floor, the two also share an undeniable chemistry. So naturally, fans are wondering: Are Alan Bersten and Alexis Ren dating?
So far, the pair hasn't given any indication of a romantic relationship, but in the video package shown right before their Pocahontas inspired dance on the "Disney Night" episode, the two can be seen flirting and smiling. When a producer asks Alexis on camera if she has developed any feelings for Alan, she blushes and says, "no comment." If they weren't dating, she could have easily said "no" or "we're just friends," but her vague response and flushed reaction has fans thinking the two might be an item.
After the episode, in which the dance duo was spared from elimination, an Entertainment Tonight reporter asked them flatly if they were in a romantic relationship, but they both made vague statements, without directly dismissing or confirming the rumors. ''I mean, we're just, we're just so happy to be here and like I love him so much and I love his energy so much and we've been so focused on the competition.'' Alexis said. Alan chimed in with his own ambiguous response, telling ET: "I feel like the experience is once in a lifetime and we're just making the most of it and really just going out there and having fun.''
While some fans may be skeptical of their romance — most DWTS fans can't help but notice the strong chemistry between the two. Many are taking to Twitter to put their hopes for a romance out there, and some are already planning to see the pair walk down the aisle at some point.
However, before joining DWTS, Alexis was in a relationship with a man whose Instagram handle is Sky Bear, reported Narcity. When going through his Instagram page, you can see his last photograph with Alexis was posted in early October, with him carrying her through an ocean wave. "Two of my favorite things in this world," he captioned the photo, on which Alexis replied with a heart emoji in the comments. In earlier posts with Alexis, he confesses his love for her through poetry, but in one of his last Instagram posts, he wrote about embracing darkness and pain, which has his followers wondering if he and Alexis have broken up.
Sky Bear's Instagram bio recently changed, stating that that he's leaving the social media platform for a while, which some followers have attributed to heartbreak. He is only seen on Alexis' Instagram in one sexy photograph of the couple from July but she did post a few flirty videos with him on her Twitter feed in April. There's no way of telling if the two have broken up, or if they are just keeping things on the DL until the show ends.
So far, there is no confirmation of a real relationship between Alexis and Alan, but for fans of DWTS, their chemistry on the dance floor is really all that matters. You never know, somewhere down the line there may be a big romantic reveal between the two, and if that does happen, I know DWTS fans will be completely ready to cheer them on.
Dancing with the Stars airs new episodes every Monday at 8 p.m. ET on ABC.