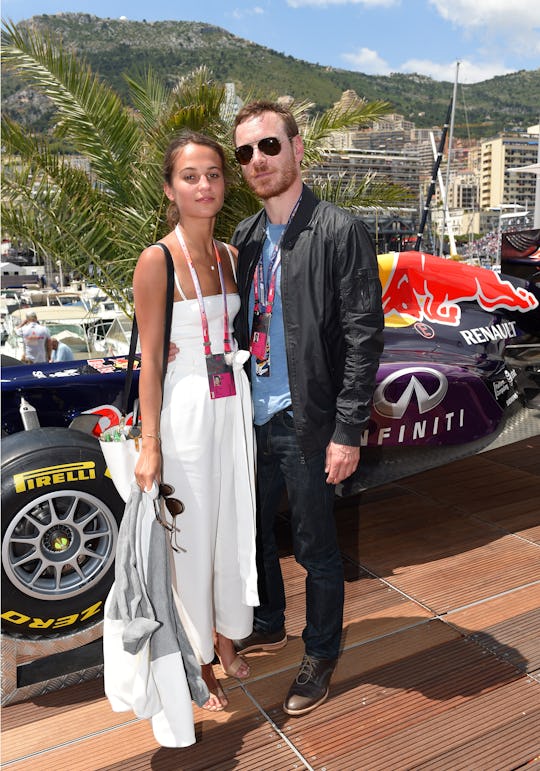 Karwai Tang/Getty Images Entertainment/Getty Images
Are Alicia Vikander & Michael Fassbender Still Dating? They're Going Strong, Despite The Rumors
Probably nothing could make a busy awards season even more hectic for a celebrity than rumors that their personal life is falling apart. Although they've been romantically linked since 2014, fans are wondering if Alicia Vikander and Michael Fassbender are still dating. And for good reason. Early in September 2015, they were rumored to have been split up but since then various interviews and appearances together are a good reminder to not believe everything you read sometimes.
With the Oscars coming up this week, the couple is one to watch on the red carpet. Vikander is nominated for Best Lead Actress in a Drama for The Danish Girl and Best Supporting actress in a Drama for Ex Machina, and Fassbender for his role in Steve Jobs. They have a lot going on and they've been making the red carpet rounds together, recently attending the BAFTA Awards together, the Golden Globes, and one anothers' film premieres.
Before the Globes, Fassbender told Entertainment Tonight that he was "very proud" of Vikander's busy and successful year. So busy, in fact, that after that awards ceremony, the couple hoped to maybe sneak in a drink or two before flying off to film their respective film shoots once again. Fassbender told Nancy O'Dell that he hoped they would "get a minute together." Sweet, right?
With a bond like that a long distance relationship should be about ten times easier to maintain, right?
Still, since Vikander and Fassbender are so often apart, it's no wonder that there has been speculation about the couple's relationship status. And the gossip does appear to hit home, according to Vikander's January 2016 Vogue profile. She admitted that she doesn't like talking about her personal life and enjoys a low-key sort of fame where she could still "go camping with [her] friends or go on the tube or the bus." In that same interview, Vikander also spoke of Fassbender, mentioning that she was attending the premiere of Steve Jobs and of her break-up rumors. "I always believed there must be some truth to the stuff you read," she told Vogue's Rob Haskell. "But I learned."
It's hard enough when you're just a regular civilian to navigate busy careers and relationships. Trying to block out tabloids when you're across an ocean from your boyfriend cannot be easy. The two met while they were filming The Light Between Oceans, which is set to be released in September 2016. After a (presumably) victorious night at the Oscars, that film, based on the 2012 book of the same name by M.L. Stedman, is bound to be a hit. There's also bound to be much more attention focused on the couple leading up to the premiere. Here's to navigating the rumor mill.