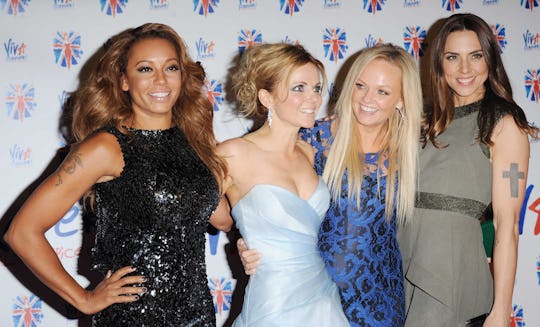 Stuart C. Wilson/Getty Images Entertainment/Getty Images
Spice Girls Attend The Wedding, Because They Go Way Back With The Royals
While some may consider them to be British pop royalty, the Spice Girls aren't actually members of the royal family. And so, as guest lists for the royal wedding were checked, hopes that all the Spice Girls would attending the royal wedding, and perhaps belt out a surprise number, were dashed as Melanie Chisholm, aka "Sporty Spice," who told Australian radio that "We were never invited, we were never asked to perform."
She added, jokingly, that she was "a little annoyed," per People. But still, fans of the classic '90s group held out hope that maybe, just maybe, the Spice Girls would attend. After all, the guest list for Saturday's nuptials seemed to be almost a potpourri of celebrities and members of the royal family. The likes of Idris Elba, Pippa Middleton, and Oprah Winfrey were all in attendance, so what was to stop the five Spice Girls from showing up? Well, other than an invitation that is.
Victoria Beckham (Posh Spice) made an early arrival to Saturday's nuptials, bringing extreme levels of Posh, alongside her husband, soccer star David Beckham. Of course, Beckham was also in attendance at the 2011 royal wedding of Prince William and Kate Middleton, as TIME reported.
According to an anonymous source who spoke to Page Six on May 16, 2018, "Only Victoria, Emma and Geri were invited, so clearly, the Spice Girls were never going to perform," the source revealed. (To which we must say, the St. George's chapel choir, a gospel choir... the Spice Girls?) Now, it's not exactly clear on what basis the invitations were sent to the chosen members of the girl group, only that not every Spice Girl was able to attend Saturday's big event. Emma Bunton, also known as Baby Spice, was not spotted at the chapel, however.
Of course, when it was first rumored that the Spice Girls would be performing at the royal wedding back in February, people believed it. According to Us Weekly, Mel B told The Real's Loni Love that all five of the Spice Girls would be attending. After confirming that all five members of the original girl group were invited, Mel B described the invitation to Love, per Us Weekly:
Now that's getting too personal if I actually describe it. It was proper. I'm not saying anymore! I've said enough. … I need to go. I'm gonna be fired!
However, it seems as though Mel B's original comments weren't exactly accurate.
However, many also thought that the Spice Girls would all snag an invite based on their relationship with the royal family. After all, fans will remember the headlines the group made back in 1997 when they met Prince Charles and all kinds of hijinks ensued. As TIME reported,
There was even a bit of scandal about their meeting with the Prince, too, as both Mel B and Halliwell breached royal protocol by giving Prince Charles big kisses on his cheeks.
Whoops!
Mel B asked if they could score a dinner invite — and recommended he get his tongue pierced — while Ginger even told the Prince she found him 'very sexy.' Outlets reported that she also 'pinched his bum,' but she has since corrected that she gave him a 'pat.'
So really, it wouldn't be that shocking if the Spice Girls were all at the wedding. Also in 1997, the group traveled to South Africa to meet up with a then 13-year-old Prince Harry, TIME reported. Basically, they go way back.
But, alas, having a history with the royal family doesn't mean that you'll be invited to all the royal events, as the Spice Girls made clear on Saturday.