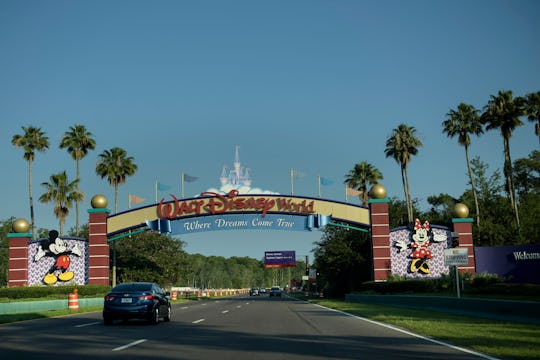 BRENDAN SMIALOWSKI/AFP/Getty Images
Are Alligators Common In Disney World? More So Than You Might Expect
After news broke that a 2-year-old boy vacationing at a Disney resort in Orlando was snatched by an alligator Tuesday night, many people were understandably expressing their shock and horror that something so terrible could happen somewhere considered so family-friendly. The boy's parents likely never would have imagined that their son could have been in danger while he was wading in less than a foot of water on the shore of a sandy beach on the grounds of the Grand Floridian Resort, which has led others to wonder, are alligators common at Disney World? While experts seem to be in agreement that Tuesday's attack was little more than a horrible freak accident, according to CNN, it's possible that alligators are far more common in Disney (and throughout the entire state) than many people likely realize.
It's important to note that, on the whole, alligator attacks involving humans are generally very rare, primarily because, according to CNN, alligators don't like to attack prey they may not be able to overpower. As a result, the odds of actually being randomly attacked by an alligator are only about one in 2.4 million. But experts warn that there are factors about Tuesday night's attack that made it more likely to happen.
Firstly, although the Disney incident involved a human, it is much more likely that an alligator would attack a small child than an adult, the same way that it would be inclined to attack a small animal. Nature expert Jeff Corwin explained to CNN that "alligators are ambush predators" that will "often ambush their prey from the shoreline." So while it may have seemed safe for the little boy to be splashing and wading alone the water's edge (reports have said the boy was in less than a foot of water when he was attacked), it was actually prime hunting ground for the alligator, who was probably on the prowl for a small animal when it came across the boy.
Alligator expert Tim Williams of Gatorland echoed Corwin's comments in an interview with Robin Meade on HLN,
We have very, very few alligator-human encounters, maybe a dozen a year, and normally they're just close calls. But we have a lot of alligators [in Florida] and it's summertime, and alligators are out moving around, building nests, babies will be hatching at the end of August...so this is the time of year these animals are active.
Another important factor to consider, Corwin said, is that alligators are nocturnal, and are particularly difficult to detect in the water at night. Officials involved with Tuesday night's incident have said that the boy was attacked around 9 p.m. at night, which would mean that it was a time at which alligators would have been more active, and given their stealth hunting nature, were probably very well hidden. In fact, during the resulting search, according to The New York Times, four other alligators unrelated to the attack were found and euthanized, proving that there were likely more alligators in the Disney waters than most resort guests would have assumed.
It seems pretty clear following the attack that when it comes to bodies of freshwater in Florida (especially at night), the risk of alligator sightings or encounters is actually pretty high. Williams even said that, as an alligator expert, he considers alligators to be a given in Florida in pretty much all waters:
There are three things we tell people you're going to find when you come to Florida. You're going to find mosquitoes, you're going to find cockroaches, and you're going to find alligators. I always expect to find an alligator in any fresh or brackish body of water. Always.
And, based on previous traveler stories from other Disney-related alligator sightings, that definitely sounds like good advice. According to The Mirror, a family from Liverpool in England claimed that they were "chased" by an alligator in April while staying at Disney's Polynesian Village Resort. In a situation that sounds fairly similar to what occurred to the 2-year-old boy on Tuesday night, the family said they were sitting on the beach near the water to watch the evening's fireworks display just before 10 p.m. when an alligator "lurched" out at them from the lagoon. Luckily, they were able to get away unharmed.
Unfortunately, that wasn't the only alligator sighting the family had during their stay: a second, smaller alligator made an appearance one of the resort's golf courses, and, according to The Mirror, a large alligator was also spotted on the shore of the same lagoon in January. But it sounds like it's not just the Disney resorts that sometimes play host to alligator visitors. In 2003, a visitor to the Disney theme park in Orlando captured footage of an alligator in the water next to a section of the Splash Mountain ride.
While it may sound like Disney has suddenly become a scary place to visit, the reality is that, just like many other places throughout the state of Florida, the existence of alligators is just a reality. While visitors certainly don't need to stay away, what Tuesday's alligator attack is reminding people is that alligators can absolutely be found near water at night, and that it's wise to keep a safe distance, even if the likelihood of an attack is very rare.
As for the family of the boy dragged off, it seems as though, heartbreaking as it is, the attack really was just a horrific accident. Hopefully progress in the search effort can be made soon, one way or another.