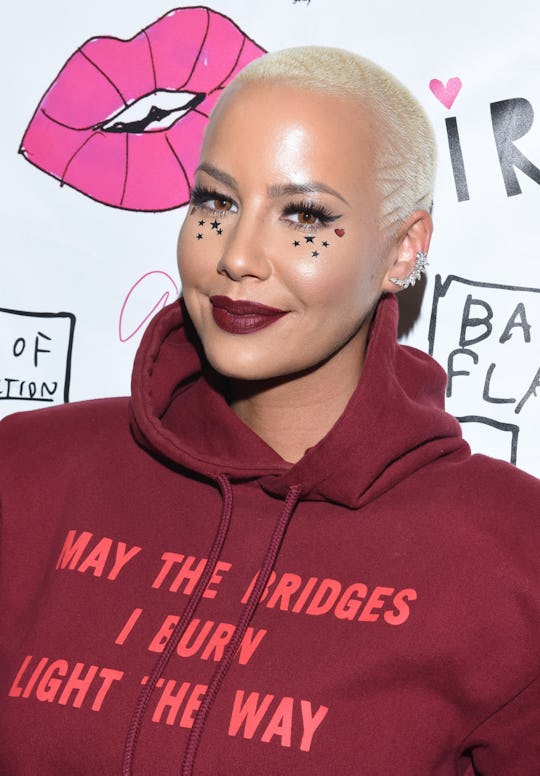 Vivien Killilea/Getty
Are Amber Rose & Val Chmerkovskiy Dating? 'DWTS' May Have Brought Them Together
Amber Rose may have been eliminated from the competition on Dancing With the Stars, but she's still seeing plenty of the professional dancers from the show, specifically in regards to her partner Maks Chmerkovskiy and his handsome brother Val, who is currently competing with Olympic gymnast and bouncy ball of adorableness, Laurie Hernandez. But, according to rumors, Amber and Val may be a little closer these days than meets the eye. Are Dancing With The Stars alums Val Chmerkovskiy and Amber Rose dating? Some of the evidence suggests that these two are an official item.
The rumors all kicked off when the two hung out together at Amber's birthday party and posted some cute and cozy pictures of the event on Instagram. In one, Amber is kissing Val's cheek, and in another Val is holding Amber by the waist, which Amber captioned "Ukrainian hottie," along with the heart-eyes emoji. This obviously isn't stone cold evidence that these two are a couple. After all, Val is objectively both Ukrainian and a hottie. In an interview with ET, Val played it coy, saying only "I can't control what people think. I live my life and I try to live it, you know, the way I want to live it." He also added, "I'd make a cute couple with a lot of people, you know what I'm sayin'?" Okay, then Val.
The rumors have since been bolstered by some paparazzi shots of the two of them exiting what I am told is one of the "hottest" new restaurants in West Hollywood, called Delilah. A recent article from E! Online claims that the two of them held hands throughout their cozy "date night" that Amber reportedly smiled all the way through. I sincerely hope this is true because I think they really would be cute together. In the shots, Amber is wearing a black bodycon dress and thigh highs (naturally) while Val went for some sort of urban cowboy look with a cherub embroidered denim shirt, wide-brimmed hat, and black gym sneakers. Amber, he needs you.
Of course, it has also recently been reported that these two are definitely not a thing. ET claims to be informed by a "source" that Val has actually been quietly dating fellow Dancing With the Stars pro Jenna Johnson, and has been fanning the flames of the Amber Rose rumors because he likes the attention. I feel like this is odd, but not necessarily unlikely.
At the end of the day, we should all just probably go about our business because whether or not Amber and Val are in love will (probably) not affect our lives one way or the other. But still... it would be nice to know for sure.