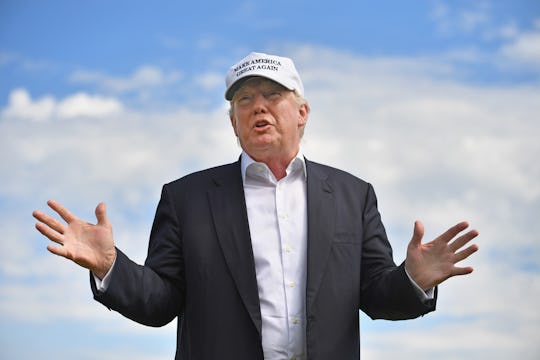 Jeff J Mitchell/Getty Images News/Getty Images
Are Americans Paying For Trump's Golf Vacations?
One unexpected benefit to the Trump administration is that more Americans are interested in politics than ever before. While the average citizen never gave a passing thought to the federal budget before, they're now up in arms about agencies losing funding while simultaneously wondering, are Americans paying for Trump's golf vacations? And just how much are they costing? There's no official answer yet, but based on past government reports, Politico estimates each trip costs about $3 million.
Trump has taken 12 golf trips during his nine weeks in office, most of them to his Mar-a-Lago resort in Florida. On Tuesday, it was announced that the Government Accountability Office will investigate both the costs and potential security risks of these trips (Trump also conducts official business at the resort). According to The Hill, when asked on Wednesday if the president was concerned about the matter, White House Press Secretary Sean Spicer said, "No, he feels great." Spicer has previously defended Trump's trips as "part of being President." But no president has traveled this often; according to USA Today, during his first year in office, President Obama spent 26 days on vacation. Trump, meanwhile, is on track to quadruple that number.
The irony of the matter is that Trump criticized Obama for taking golf trips for years, claiming he would "rarely leave the White House" as president. But the Secret Service recently requested $734 million for its 2017 "operations and support" protection budget, according to the Washington Post. And there are more costs associated with presidential vacations such as aircraft operational costs, and Coast Guard patrol of shores near the property. Add that to the cost of protecting Barron and Melania Trump at their New York home, and following the older Trump children as they jet around the world making international business deals, and the Post estimates the total travel expenses for four years under Trump could total over half a billion dollars.
By contrast, the Secret Service spent just $123.5 million protecting a virtual clown car of presidential candidates during the 2016 election, according to the agency's budget report. And Obama, who was scrutinized for his vacations throughout his presidency, racked up just under $97 million in eight years, according to conservative watchdog group Judicial Watch. Speaking with Politico following the original $3 million estimate, Judicial Watch's president, Tom Fitton, said that the group would begin investigating Trump's travel. Can't wait to see those results.