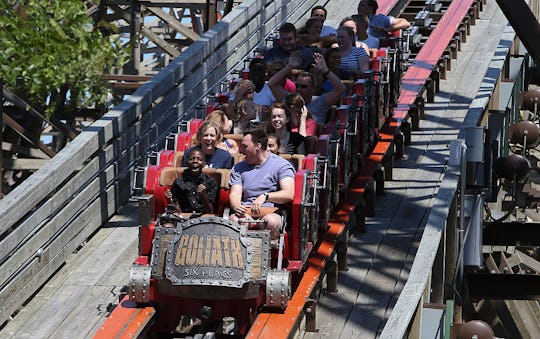 Tasos Katopodis/Getty Images for Wyndham Rewards
Are Amusement Parks & Water Parks Safe For Children? Regulations Vary By State
With height restrictions and safety belt warnings at the beginning of each queue, you seldom hear about theme park and water park rides going awry. Recent events, though, have unfortunately given parents pause in assessing ride safety. In Kansas, 10-year-old Caleb Schwab died on a water slide this week. Just this Tuesday, a 6-year-old girl fell from a Ferris wheel in Tennessee and, according to a local doctor, has "suffered a traumatic brain injury and [remains] in critical condition." Before taking your child to ride rollercoasters at the tail-end of summer, you'll need to decide: Are amusement parks and water parks safe for children?
The first case took place on the world's tallest water slide, stretching higher than both the Statue of Liberty and Niagara Falls. In three-person rafts, riders plummet 168 feet down the half-pipe slide, enclosed by netting. Schwab was decapitated at the Schlitterbahn Water Park, and an observer at the park speculated that "he must have somehow been ejected from his seat, bounced around between the netting and the slide and just slid down." In 2014 the creator of the Verrückt slide, Jeff Henry, told USA Today that it was difficult to engineer the slide, and that they had "many issues" getting things right. Henry eventually assured that the slide was "dangerous, but it's a safe dangerous."
The second case occurred in a much less tested environment—a county fair. The six-year-old was seated with her 10 and 16 year old sister (who both remain in stable condition). Greeneville Police Capt. Tim Davis told Fox News that the sisters suffered a fall of "30 to 45 feet...when their seat flipped over." Family Attraction Amusements, owners of the Ferris wheel, filed an accident report stating that "car number 9 got caught on a bar and caused (the) car to turn over," though investigations continue as officials look to determine the exact cause.
Discrepancies in amusement park regulation exist nationwide. Jason Herrera, the director of the Amusement Safety Organization, told TIME that states choose how they want to regulate their parks, i.e. whether they leave those regulations up to the parks themselves or prefer to use outside inspectors, county inspectors, or state inspectors. As far as fairs go, though the U.S. Consumer Product Safety Commission "is responsible for overseeing and investigating injuries at temporary parks," they are not responsible for conducting inspections.
A 2013 study by the Nationwide Children's Hospital found an average 4,423 injuries to children at theme parks per year—about 20 injuries a day. On the other hand, the International Association of Amusement Parks and Attractions posits, that "the chance of being seriously injured on a permanent amusement ride at a U.S. amusement park at 1 in 16 million," downplaying the risk.
Seeing that the regulation of amusement parks is unstandardized from a national standpoint, it appears that the burden must go to the parent or guardian to research whether a park is safe for their child. Saferparks, a non-profit organization focusing on the "prevent[ion of] amusement ride accidents through research, information sharing, and effective public safety policy," offers myriad resources on its website so that you can see whether your state regulates its own amusement parks or not. Before planning a thrill-seeking outing, research the park at hand as well as the authorities that inspect it.