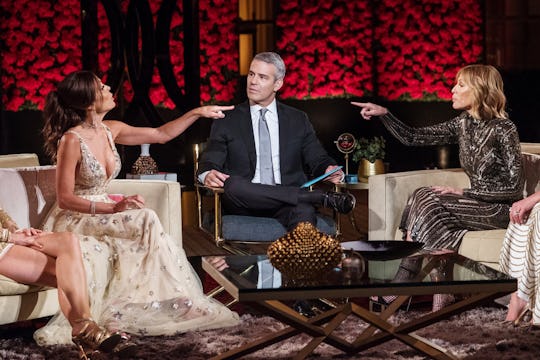 Charles Sykes/Bravo
Andy Cohen Is In A Tough Spot After The Bethenny & Carole Feud
After the bitter feud between Bethenny Frankel and Carole Radziwill that played out this season on the Real Housewives of New York City, Bravo host Andy Cohen admits to feeling caught in the middle. He seems pretty committed to not choosing sides, but fans may be wondering: are Andy Cohen and Bethenny Frankel friends outside of RHONY? Their relationship based on the show alone stretches back ten years, so even if they never hang out outside of work, it's hard to imagine they don't share some kind of friendship.
For years it has been said that Cohen and Bethenny have a personal friendship outside of the show, though it's clear that Cohen has a relationship with all of the 'Wives. He did admit once, however, that he had a favorite franchise and a favorite Housewife. In a 2016 interview with TimeOut, Cohen admitted that the women of New York City have a special place in his heart, and he seems to have a particularly special relationship with Carole. "I've known Carole Radziwill the longest. She's a personal friend," he told the outlet. Cohen's relationship with Carole apparently goes back 20 years and he told Us Weekly he's known her since the late '90s.
That said, he hasn't been quick to pick a side when it comes to the feud between Bethenny and Carole which, it appears, is ongoing even outside the show. "I loved their friendship, I really did," Cohen said of Bethenny and Carole in a Page Six interview when Season 10 first premiered. "I knew Carole for years before she met Bethenny and vice versa...It's not fun to see friendships fall apart, its very relatable I think for a lot of women to watch two friends drift apart and wonder why and what's going on so I think it makes interesting television but it's real, so its tough [sic]."
After all, you don't manage several franchises' worth of Housewives for over a decade without learning how to be a neutral party in disputes. Cohen genuinely seems to have a knack for keeping personal and professional circumstances separate in his relationships with people. And he has a pretty good track record of holding people equally accountable during reunion shows.
When the pair began growing apart, it seemed like Carole was at peace with it while Bethenny felt anxious about the fraying relationship. In the end, it seemed like neither of them were getting their needs met, which they both recognized and so they mutually decided to step away. But because of the nature of reunion shows, a bunch of their conflict got rehashed on air. Andy was left literally and figuratively in the middle of it.
"It is a little awkward, but the good news is that both of them understand my role and they understand that I am friendly with the other person," Cohen said to E! News at the beginning of the season. "And so the last thing that I would want to be is in the middle of this feud, but of course, by nature of what I do, it's kind of where I find myself in a weird way."
Part two of the RHONY reunion show airs August 29 on Bravo.