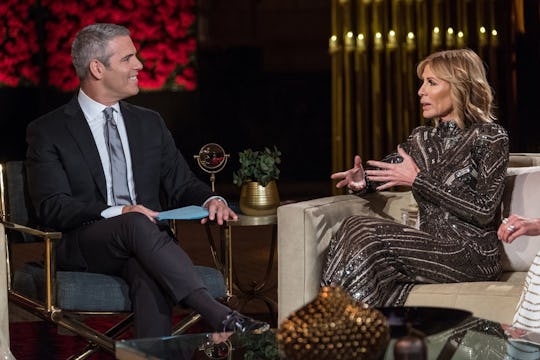 Charles Sykes/Bravo
Andy Cohen & Carole Radziwill's Friendship Goes Way Beyond 'RHONY'
Andy Cohen found himself in an unusual position at the Real Housewives of New York City reunion: he's currently stuck in the middle of a feud between Bethenny Frankel and Carole Radziwill. Given their bitter fight this season and Carole's exit from the series, fans may be wondering: are Andy Cohen and Carole Radziwill friends outside of RHONY? They actually go way, way back.
"I never really comment on contracts or hiring or firing but I will say that we're gonna miss Carole a lot. She was an important part of the show for six years," Cohen told Us Weekly earlier this month. "I've known her for a long time, since the late '90s I think. So we obviously all wish her well."
In a 2016 interview with TimeOut promoting his memoir, Cohen admitted that the Real Housewives of New York cast was his favorite, saying that they occupied "a special place in [his] heart." He added, "I've known Carole Radziwill the longest. She's a personal friend."
Carole and Bethenny's deteriorating friendship this season seemed to arise from their different expectations and needs from one another. And although it was tough to watch them both come to terms with that, given their once close relationship, they each seem to accept that they're just not compatible friends right now.
"I loved their friendship, I really did," Cohen told Page Six when Season 10 first premiered. "I knew Carole for years before she met Bethenny and vice versa...It's not fun to see friendships fall apart, its very relatable I think for a lot of women to watch two friends drift apart and wonder why and what's going on so I think it makes interesting television but it's real, so its tough [sic]."
Both Bethenny and Carole threw a few pretty low blows at each other over the course of the season. Bethenny accused Carole of being too obsessed with her image after a style makeover, which isn't cool. Women are obviously allowed to be excited about fashion, hair, and makeup, and they're allowed to express that excitement on Instagram. Carole, meanwhile, said she just couldn't be friends with someone who's crying all the time, which came off as super insensitive, given Bethenny's pretty heavy personal life. And even if Bethenny didn't have a lot going on that Carole could see, women are allowed to express their emotions, even if they include tears, and especially to their one-time best friends!
Ultimately, Carole opted to exit the show, releasing a statement saying:
After six seasons on Bravo's RHONYC, I have decided to return to what I do best — journalism and producing. I am sure this does not come as a surprise to any of the viewers, all of whom have been supportive, encouraging, and kind. My original curiosity about reality television has waned over the years and I am focusing on TV and writing projects that better suit my more steady temperament. I have worked with amazing producers, made great friends, and I'm thrilled to leave frenemies behind. I will remember this entire experience with delight, humor, and a veracious accuracy. Next.
Part two of the Real Housewives of New York reunion airs on August 29.