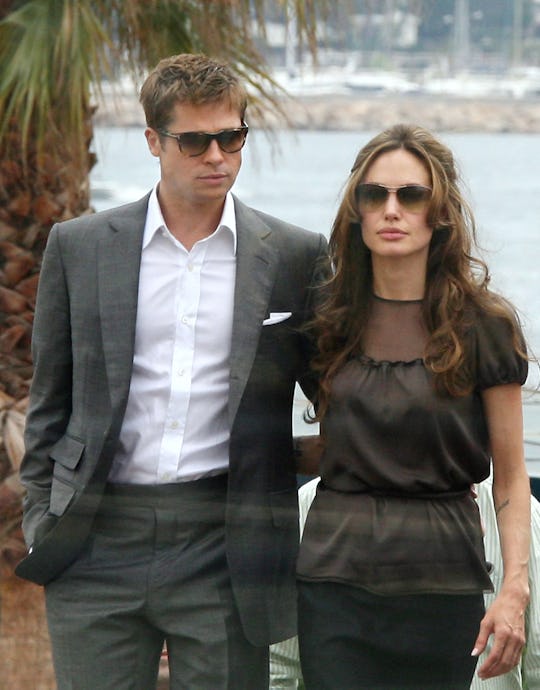 ANNE-CHRISTINE POUJOULAT/AFP/Getty Images
Are Angelina Jolie & Brad Pitt Breaking Up? The Divorce Doesn't Look Like Just Separation
Move over, Hiddleswift, there's a much juicier breakup happening in Hollywood. TMZ has reported that Angelina Jolie has filed for divorce from Brad Pitt after 12 years and six children together. But are Angelina Jolie and Brad Pitt breaking up? Or is the divorce just a "let's be friends" kind of deal? Jolie has also asked for sole physical custody of the children, so it appears to be a serious end to the relationship. On Tuesday afternoon, attorney Robert Offer released the following statement on Jolie's behalf, according to Reuters: "This decision was made for the health of the family. She will not be commenting, and asks that the family be given its privacy at this time." Romper has also reached out to Pitt's representative for comment, but did not immediately hear back.
The gossip site reported that Jolie filed for divorce on Monday, citing irreconcilable differences. They also claimed that Jolie requested joint legal custody of the children, and visitation privileges for Pitt, but notably, that she would retain physical custody of Maddox, Pax, Zahara, Shiloh, Vivienne, and Knox. Sources also told the outlet that the breakup was caused by the couple's disagreement over how the children were being raised, and Jolie, who's retained the services of high-powered divorce attorney Laura Wasser, is not requesting spousal support. Wasser has previously represented Amber Heard, Jennifer Garner, Kim Kardashian, and Maria Shriver in their divorces, and she's not known for losing, to put it mildly. Things are not looking good for Pitt, who last appeared alongside his then-wife in 2015's By the Sea, in which the pair played an unhappily married couple.
TMZ's sources further speculate that "weed and possibly alcohol" as well as "an anger problem" may be among the reasons that Jolie no longer feels comfortable with Pitt having custody of the kids. Multiple sources have also confirmed the split to People. The couple met on the set of Mr. & Mrs. Smith in 2003, and in 2005, Pitt divorced his then-wife, Jennifer Aniston. Pitt and Jolie have been together ever since. Although Pitt adopted her first two children, Maddox and Zahara, in 2005, and family subsequently grew to eight in total, it wasn't until 2014 that the couple legally wed.
The last public update on the family seemed positive; according to Vanity Fair, Jolie appeared on BBC Radio 4's Woman's Hour in July and shared that all six children had chosen to study different foreign languages, and that they were all interested in careers in music. Last year, the entire globe-trotting family appeared in a Vogue spread tied to By the Sea's premiere. The Jolie-Pitt children have commanded media attention since birth, and for the most part, have graciously obliged. Now, though, it's time to give those kids some space while their parents sort out this mess.