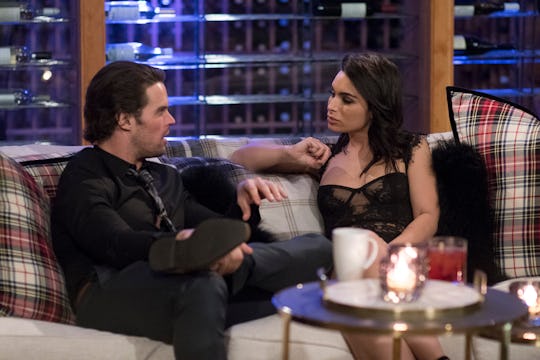 Lorenzo Bevilaqua/ABC
Ashley I. & Kevin Could Be Endgame On 'The Bachelor Winter Games'
If you watched Ashley Iaconetti on any of the three Bachelor shows she was on before joining The Bachelor Winter Games, you'll know her as the one who cries a lot, because she never seems to find the right guy. Well all that seemed to change when Ashley met Kevin on Winter Games. So are Ashley and Kevin still together after The Bachelor Winter Games? You can snoop their Instagram and Twitter accounts all you want, my friends, but these two are not ready to give any hints as to the current status of their relationship. For Ashley's sake I hope they're together though. I just want her to be happy, you know?
Ashley I. has never gotten a particularly kind edit on the show, and became known as the Kardashian obsessed, crying virgin who wears a ton of makeup when she competed on Chris Soules' season of the show. But nevertheless, somehow she grows on you. So even though I saw her doing things that made me cringe in second-hand embarrassment (particularly on Bachelor in Paradise) I can't help but root for her. There's something endearing about her desperation. On social media and her podcast The Ben and Ashley I. Almost Famous Podcast she proves herself to be funnier and more together than she ever gets credit for on the show.
That's why I was thrilled when I saw that she got together with Canadian Bachelorette contestant Kevin Wendt on Bachelor Winter Games. Kevin won the first ever Canadian season of The Bachelorette in 2016, and proposed to Jasmine Lorimer. Unfortunately the couple broke up a few months later, which is sad but good for us because it brought Kevin to Vermont for the Winter Games where I am hoping against hope that the two of them are cozied up somewhere and planning their wedding.
Unfortunately they both know how this works and have not posted anything incriminating on their Instagram or Twitter accounts. Ever the professional, Ashley I.'s Instagram is almost always promoting something, whether that's the show, a brand sponsor, or one of her many hosting gigs. I'm actually beginning to suspect that Ashley, who seems the most sincere on these shows, is actually the most crafty and has become a pro at using these shows as a means to boost her career as a television personality. And honestly, I admire that kind of ambition.
Speaking of being a television personality, Ashley recently announced her new show, The Story of Us, which will ask real couples to tell their own love story. In the promo for the show, Ashley describes herself as "single as f*ck." Whether or not this is still true after Winter Games remains to be seen.
Kevin's Instagram, while less curated than Ashley I.'s, gives no more hints as to what he's doing right now. I'm still trying to decode a particular Instagram caption which reads:
I had the craziest dream last night!! (involved water) Woke up in a sweat with a 💯 heart rate 😧❤️ Anyone want to guess what it was about?? (I have the most creative, funny Insta friends, I know this.
He included the following hashtags: #scarydreams #sexydreams #dreamsaboutfood #dreamsandnightmares #dreamsaboutfalling #sleepyhead. I don't even know where to begin. It's certainly weird but doesn't necessarily give any clues as to whether he and Ashley managed to make their romance stick. I just hope that he knows if he does want to stay together with Ashley, he's probably going to have to move to California to support her career. Just saying.
Check out Romper's new video series, Romper's Doula Diaries:
Watch full episodes of Romper's Doula Diaries on Facebook Watch.