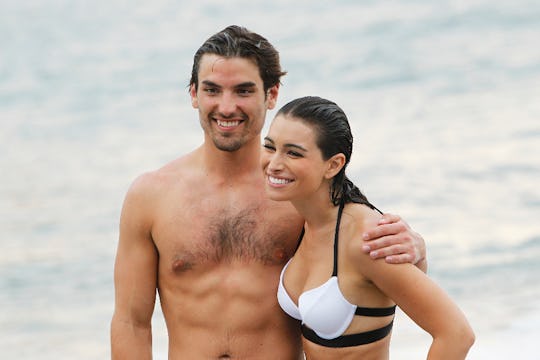 ABC/Rick Rowell
Are Ashley & Jared Dating Now? There Was Some Definite Tension During 'Bachelor At 20'
Anyone watching Bachelor at 20 on Sunday night had to have noticed the sparks between Ashley Iaconetti and Jared Haibon throughout the highly anticipated reunion episode. Ashley and Jared obviously had chemistry during their season of Bachelor in Paradise. In fact, their flirtation during the big Bachelor reunion was strong enough that fans couldn't help but wonder: Are Ashley and Jared dating now?
It looks like that would be a "no." I think. But honestly, it's hard to tell. Although Ashley definitely had a thing for Jared in June last year, when Bachelor in Paradise was being filmed, her feelings weren't exactly returned. (Ah, unrequited love.) But just a couple of months ago, rumors were swirling about the couple. For Jared's birthday, the two of them definitely seemed close, and Ashley Instagrammed up a storm, which led a lot of Bachelor fans to post a flurry of "Oh my god, it's finally happening" comments on pictures of the two of them together. There were many, many exclamation marks.
However, judging by one of Ashley's Instagram posts in September, they may just be close friends. She captioned a picture of herself and Jared with this very sweet message, explaining their friendship:
It may not have worked out romantically for @jaredhaibon and me, but as Taylor Swift says, "I never saw you coming and I'll never be the same." I am so thankful to have Jared in my life. He proves that there are men of this generation that treat women with kindness and respect. The "whimsical attachment" as @tenleymolzahn says helps a girl figure out the characteristics & traits she really values in a man ...a gentleman. Jared has a beautiful heart & soul and he and I will always be friends!
While it's definitely caring (and I have to say, I love the T-Swift shoutout), it hints more at a friendship than a romantic relationship.
You never know, though. Some of the best relationships come from pre-existing friendships, so there may be potential for something more to develop between Ashely and Jared. Maybe it already has. But otherwise, it's awesome that these Bachelor graduates have remained friends, and it's great that they have remained close despite the madness that it must be to film The Bachelor in Paradise.
So if you're pulling for Ashley and Jared, it looks like all you can do at the moment is guess and cross your fingers really, really hard. And maybe stalk both Jared and Ashley's social media profiles in case there's any signs of something romantic going on. (I promise I won't judge.)