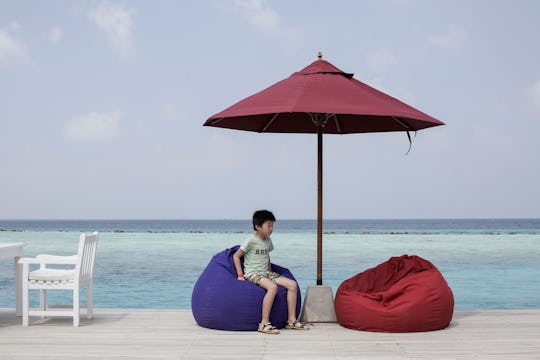 Giulio Di Sturco/Getty Images News/Getty Images
Are Beanbag Chairs Safe For Kids? A Tragic Daycare Accident Shows They Can Be Deadly
Beanbag chairs have been nursery, playroom and kids' bedroom furniture staples for decades. They're versatile, cute and since they don't have sharp edges or hard parts they seem like a totally safe place for kids to sit, play and roll around. But a recent horrible accident at a Utah daycare proves even beanbags can be deadly. Are beanbag chairs safe for kids? A tragic accident is highlighting a suffocation risk.
Little Leo Sanchez was dropped off at West Jordan Child Center by his mom in West Jordan, Utah, according to Denver Fox affiliate KDVR-TV. During playtime, he crawled underneath a classroom beanbag chair. While he was underneath, a daycare employee reportedly sat down on top of him for anywhere from five to 15 minutes, according to video surveillance later released by authorities. Unfortunately, once they realized Leo was trapped, it was too late.
Leo would have turned 2 years old on Sept. 17, but instead of a birthday party, the family will be holding the little boy's funeral.
"I dropped him off at day care not realizing I would never be able to hold him again, or kiss him, or have my Leo back," his mother, Danielle Sanchez said, according to KDVR-TV.
It's an unimaginable tragedy no parent should ever have to face. When it comes to placing blame, Danielle and her husband Dan, Leo's parents, seem to place the blame not on the beanbag chair, but on the daycare workers.
"How could this happen?" Sanchez said, according to KDVR-TV. "He's a big boy. How did they lose track of him? Too many kids, too much noise, overwhelmed, a bad day. … Somebody dropped the ball and now we're going to have to bury a boy because of that."
The daycare center released this statement through an attorney, according to KUTV-TV in Salt Lake City, Utah:
No words adequately describe the depth of the sorrow we feel. And, of course, we do not pretend to understand how devastating this is for the family. We know the family well, we grieve with them, and we pray that God will provide them the comfort and peace they inevitably will need.
According to authorities, there will be an investigation into the daycare center by the Department of Health. KUTV-TV reported a couple of other parents and neighbors of the facility have noticed issues with supervision.
There were new standards set for beanbag chair safety in 1996, according to Consumer Watch, that should make it difficult for kids to unzip the outer cover and either crawl inside and suffocate or access the filler material, which can cause choking. As a result all beanbags should either have no zipper to access the insides of the chair, or a zipper with a lock that requires a special tool, Consumer Watch added.
There was another massive recall from the Consumer Product Safety Commission and Ace Bayou Corp. in 2014 of 2.2 million beanbag chairs after two children, one 13 and 3-years old crawled inside a beanbag chair and died from suffocation. So far, however, the chairs are supposedly kid-friendly and with adequate supervision, shouldn't prove dangerous to most children.
As of now no one involved with the Utah incident appears to be blaming the beanbag chair for the toddler's death, but rather on a lack of supervision in the classroom.
Sgt. Jow Monson, from the West Jordan Police Department called the incident a "very tragic, sad accident," according to KUTV-TV.
Let's hope Leo's parents are able to find some peace after this tragic loss.