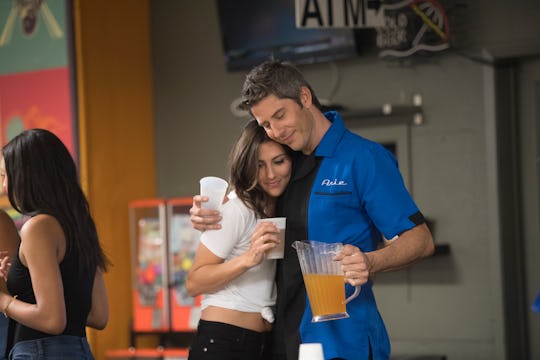 Paul Hebert/ABC
Why Becca & Arie Getting Engaged On 'The Bachelor' Would Actually Make A Lot Of Sense
It wouldn't be a season of The Bachelor without spoilers. Which is why from the very beginning, people having been asking if Becca and Arie are engaged after The Bachelor. Now, I do not write spoilers (usually), I just ask the important questions. Nothing has been officially revealed about who Arie wound up with at the end of this journey, so I can't tell you one way or another. It's frustrating, I know. However, we can all happily speculate based on what people have revealed so far. And trust me, people have been asking this question for a long time.
Ever since Jimmy Kimmel predicted that Becca would be the winner of Arie's season, I've made sure to keep a sharp eye on her as the show progressed. And she definitely defended her position as front-runner right from the very beginning. She got Arie's first one-on-one date, in which he took her shopping à la Pretty Woman, and the two got really close. They claimed their passion cooled somewhat in the intervening weeks until it was totally rekindled by the time they were together in Italy. Obviously plenty of people suspect that Arie proposed to Becca in the final days of the show.
And there is actually some Instagram evidence to back this up. Way back at the beginning of the show, plenty of outlets pointed to Instagram stories posted by both Arie and Becca that seemed to indicate they were together. Arie posted a picture of a book while apparently lounging around outdoors on his Instagram story. Becca, meanwhile also posted a picture of herself lounging around outdoors, in what appeared to be the exact same yard, down to the angle of the nearby pool and the grayish lighting. Becca's story claimed she was in Florida, but nobody seemed to buy it.
This was way back at the beginning of Arie's season, but it is hardly the only Instagram story evidence of what transpired between these two. Much later, Becca posted two photos to her Instagram story that, while not proving anything really, definitely seemed to imply some sort of heartbreak. The first was a picture of drooping flowers which Becca labeled "mood." The second was a picture of herself with her cat writing, "at least she still loves me." Yikes. Sure this could be in reference to something totally irrelevant, but it could also mean that Arie broke her heart.
Other than these Instagram slip-ups, both Arie and Becca appear to be acting more carefully with their social media. I know this because I have been monitoring their situations quite consistently. Becca still posts plenty of pictures with her cat and dog but so do every other pet-owner ever, so I really don't think there's anything to read into that. Arie's Instagram at the moment says even less, and consists mostly of photos of himself smiling blandly and looking nonthreatening.
So basically, my answer to the question are Arie and Becca engaged is just a big old shrug. I don't know if they're engaged or dating or never speaking again and honestly, I don't want to know yet. Now I can't wait to find out on TV just like everybody else, and then see the breakdown of everything that happened on After the Final Rose, which is always a must-see viewing. In fact, aside from the Women Tell All special, After the Final Rose might be the best part of the whole season of The Bachelor. So get ready folks.
Check out Romper's new video series, Romper's Doula Diaries:
Watch full episodes of Romper's Doula Diaries on Facebook Watch.