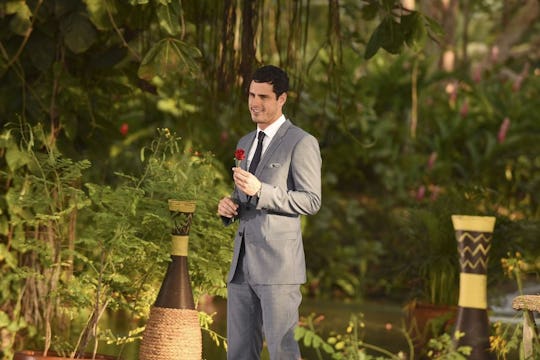 Matt Dunn/ABC
Are Ben & Lauren B. Still Together? 'The Bachelor' Couple Is Very Much In Love
It's official. On the finale of The Bachelor, Ben proposed to Lauren Bushnell, and dumped JoJo Fletcher. Both women clearly had a connection with Bachelor Ben — after all, he was the first Bachelor to tell two women he loved them — but at the end of the day, Lauren B. was the one who won Ben's heart. But, are Ben and Lauren still together now that The Bachelor is over? On the "After the Final Rose" special, that was certainly the question to be answered.
Whether you followed spoilers or remained completely ignorant to who Ben picked at the end of the journey, the final moments of The Bachelor were shocking. Even though spoilers are rarely wrong, Ben's "I Love You" blunder definitely put a lot of speculation into question. But, lo and behold, it was indeed Lauren who won Ben's heart. Unfortunately, that meant that JoJo was left brokenhearted.
Enough of the sad things — you're probably wondering if Ben and Lauren are actually still together! Unfortunately, the reality show doesn't have the best track record when it comes to successful relationships, but that also doesn't mean that Lauren and Ben will fall to the same fate. On the "After the Final Rose" special, Chris Harrison asked the very important question: Are Ben and Lauren still together? And their response?
Of course they're still together! Have we already forgotten that these two were so into each other from, like, Day One of the season? In response to the question, Ben said that it has been a great couple of months since the show ended. The two have been able to see each other throughout their months away — in secret — and it seems like they love each other more now than ever. And, even more importantly, Lauren was well aware that Ben said "I love you" to JoJo.
The two seemed genuinely happy together. Lauren says that the day Ben proposed was the best day of her life. That's a good start to a relationship that will hopefully last. As of now, it seems like the two are in the honeymoon phase. Let's hope that lasts forever for them so they can show the haters that this show actually works.