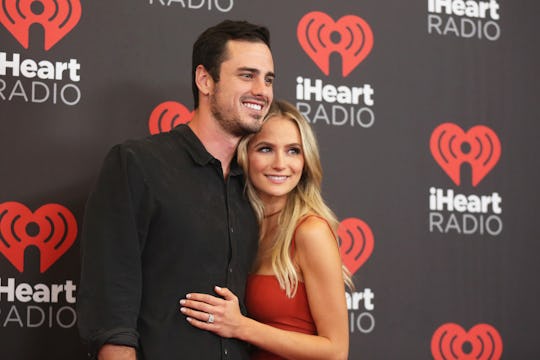 Isaac Brekken/Getty Images Entertainment/Getty Images
Are Ben & Lauren Friends With JoJo? They Hang Out Together On Their New Spin-Off
Ben Higgins and Lauren Bushnell kick off their post-Bachelor happily ever after with a Freeform spin-off series that literally asks in its title, Ben & Lauren: Happily Ever After? For their part, the couple insists that they're very happy and agreed to do the spin-off only because fans continue to remain so invested in their lives. In the first episode, we get a glimpse of them prepping to attend JoJo's "After the Final Rose" special following her Bachelorette season's finale. But are Ben and Lauren friends with JoJo? They seem to be keeping it civil for the cameras, at least.
Back in March, while filming The Bachelorette, JoJo admitted that she and Ben weren't speaking (which only makes sense while juggling twenty other guys — no need to keep your ex-TV boyfriend in the mix) and that maintaining her friendship with Lauren was the priority. Ben and Lauren politely attended her "After the Finale Rose" special, however, even though they admitted to not watching JoJo's season. They managed to execute a convincing display of support for JoJo, and seemed genuinely happy for her to finally find her own love story. All parties appeared to have genuinely moved on and their interactions appeared civil. But everyone seems keen on continuing to take advantage of each other's moment in the spotlight. Now that Ben and Lauren are on their own show, it gives JoJo and her fiance Jordan Rodgers a chance to get back in front of the camera.
This past August, Ben, Lauren, JoJo, and Jordan were spotted filming a double date for Happily Ever After at Katsuya Hollywood. They were grabbing lunch, so it sounds pretty casual, although there were reports of heavily flowing mimosas, in true Bachelor fashion. (Was Chris Harrison lurking in a corner giving context between sequences? Unconfirmed.) It seemed clear from JoJo's Bachelorette finale that she and Ben didn't harbor any ill will toward one another, and, hopefully, Jordan is the kind of guy to follow suit and not hold grudges against his girlfriend's ex if she doesn't.
Bachelor/Bachelorette contestants do so many promotional appearances for ABC that it's super common for them to hang out with each other once the cameras stop rolling. (Check out any memorable contestant's Instagram feed for evidence.) But considering JoJo and Jordan bought a home together in Dallas, and Ben and Lauren live together in Denver, it seems most likely that this lunch was a one-off publicity stunt to promote the latter's spin-off series.