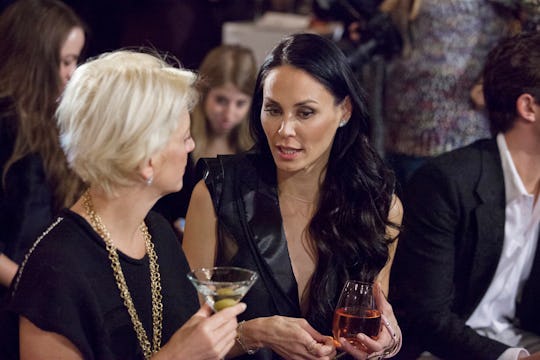 Heidi Gutman/Bravo
Are Bethenny Frankel & Jules Wainstein Friends? Their 'Housewives' Clash Has Just Begun
Bethenny Frankel and Jules Wainstein really got off to a rocky start on Season 8 of Real Housewives of New York. Jules is the new Housewife in town, and Bethenny doesn't have a history of being especially hospitable to newcomers, she's an OG, what can she say. And it appears that things are just heating up between the two big personalities, which might lead you to wonder if the ladies reconciled off-camera after the season wrapped. So are Bethenny and Jules friends post Real Housewives of New York?
While they did meet once before the season began, it doesn't seem like they have a great connection. On screen, we see Bethenny take a dig at Jules' weight pretty early on, at the brunch the crew went to during the premiere episode. She takes note of how she, herself, launched a company called SkinnyGirl and wrote a book called Naturally Thin, but "this is not naturally thin," she remarks of Jules. They clash again when Bethenny sees Jules' in-progress Hamptons home, which is under a lengthy construction — a favorite jab among Real Housewives. Bethenny — probably thinking she was simply doling out good advice, after experiencing a similarly long and nightmarish apartment renovation — urges Jules to speed up construction or she'll never sell the house. Jules, probably feeling defensive after Bethenny's history of shade, feels super judged and basically tells Bethenny off in her cutaway interview.
Based on the ladies' Bravo blogs, it doesn't seem like they've clarified their intentions with one another or even remotely made up. Bethenny gave a post mortem on the bra party episode that continues her near-constant nitpicking of Jules. She writes:
"As far as Jules not knowing how to make coffee after claiming to make breakfast every day, that's just odd. So on this very day, when the camera crews are there and you're doing your daily ritual, this is the day you will learn to make coffee. This was confusing.
Motherhood is a sticky topic, but structure is important to me, and your kids getting to school an hour late every day, and the school not caring because they need your money, well that's some different shiz.
Getting into a NY private school is like getting into an ivy league. It's also one of the wealthiest cities in the world, so there are plenty of people to give schools their money."
Jules, meanwhile, addressed her first on-screen encounter with Bethenny somewhat more diplomatically in her blog — but remember, she's also a new cast member this season who has no fanbase supporting her just yet. It behooves her not to make enemies so soon. She confessed:
"I'm not gonna lie, I was kind of caught off guard watching the brunch at Catch, because usually when I meet someone for the first time I like to get to know them. It seems like Bethenny likes to figure out which label fits best."
We'll have to wait till the reunion to see whether Bethenny and Jules have found neutral ground with each other, but it doesn't look good.