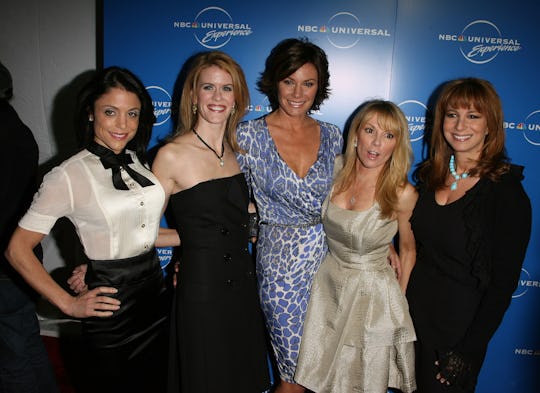 Bryan Bedder/Getty Images Entertainment/Getty Images
Bethenny & Jill's Friendship Might Just Be On The Mend Again
Bethenny Frankel's friendship with Jill Zarin was a big part of the early years of The Real Housewives of New York, as was their eventual falling out. By the time each left the show, the distance between them had widened considerably. So are Bethenny and Jill still friends, or has too much time passed for them to mend their relationship?
It seems like the two women may have reconnected recently after the passing of Jill's husband, Bobby, but they aren't necessarily friends again. Both have spoken about how they were able to hash out some things at Bobby's memorial, so it does seem as though they are in a better place than they were previously. Their falling out occurred throughout the third season of RHONY and culminated with Bethenny leaving the show to pursue other opportunities, including her own spinoff. Jill departed a year later after Season 4. Bethenny would go on to return to the show full time (and Jill has even made a brief guest appearance since then), but the chilly atmosphere between the two never really warmed.
However, it seems like things are improving between Bethenny and Jill. Even if they don't end up besties again, at least they've managed to clear the air.
Bethenny talked to People about seeing Jill again at Bobby's funeral. After a lengthy battle with cancer that began in his thyroid and eventually spread to his lungs and brain, Bobby passed away in January 2018. His memorial will be featured on the June 13 episode of The Real Housewives of New York. According to Bethenny, chatting with Jill at the memorial ended up being a more emotional moment than she expected. Bethenny said:
To be honest I thought I was going to pay my respects and leave, and I ended up lingering and staying and having emotions. I really did know Bobby. And I did sort of remember all of these quotes that he had said.
Bobby had apparently been encouraging Jill to make up with Bethenny for years, so putting a pin in the past was a way of honoring his memory. Bethenny later added that she was glad she went to the service and saw Jill "because [Jill] feels that [Bobby] would have wanted that and it's just one less thing for her to be upset about. I do feel for her having such a tremendous loss."
Jill also spoke to People, reiterating that "one of Bobby's wishes was that we become friends again and that the whole feud would be over." She said that there was a lot of affection between all three of them at one point and Bobby wanted them to be friends even if they weren't as close as they used to be. She also told Bethenny how proud she and Bobby were of her success. While the conversation was "pretty quick," Jill described it as "warm, it was nice. It was sincere."
Bethenny updated Entertainment Tonight on how things have been between them since the funeral, explaining, "We're not in each other's lives in the same way. I wish her family the best." And it seems like the feeling is mutual; during another interview with People, Jill said:
I've talked to [Bethenny] a couple times, not on the phone [but] in texting. We're all good. You know what? She's busy; I'm busy. If I needed something, I feel like I could call her and say: 'You know Bethenny, could you help me with this?' And I did actually ask her for something and she did. And, vice versa. If she needed something from me I would totally help her. I feel like that line of communication is open and running both ways, so that's good.
It looks like Jill and Bethenny are doing well, even if their relationship has changed over the years. And who knows? Perhaps they'll find a way to get closer again in the future.