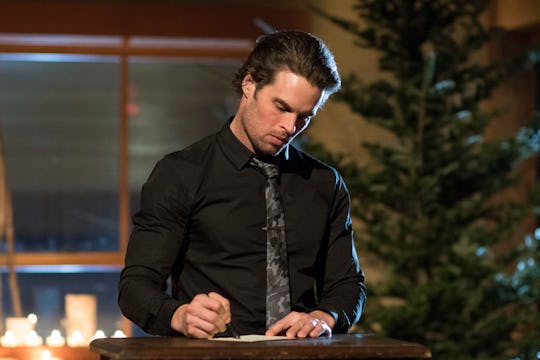 ABC
Bibiana & Kevin Share Undeniable Chemistry On 'The Bachelor Winter Games'
I have to admit, I was skeptical when I first heard about The Bachelor Winter Games — another spin off? But I have to admit, I'm already hooked, especially on the couples blossoming and particularly when it comes to Bibiana and Kevin, who shared instant chemistry from the very start of the show. But are Bibiana and Kevin dating after The Bachelor Winter Games? I did some snooping on social media to see if these two lasted beyond Vermont.
Bibiana and Kevin are just one of the international couples that paired up in the premiere of The Bachelor Winter Games. American fans will probably recognize only one of the two: Bibiana. She appeared on Arie's season of The Bachelor — yes, the one airing right now. Bachelor timelines are like glitches in the Matrix, but long ago I decided not to question it. This is especially true when it means that I can see Bibiana on TV again only a short time after she left The Bachelor. But I digress.
Bibiana is a former Dolphins cheerleader who went on The Bachelor to potentially find love with Arie. What she instead found was drama with this season's "villain," Krystal. Bibiana and Krystal had some beef during a cocktail party when Krystal already had a solo date rose but insisted on talking to Arie when other contestants, like Krystal, wanted some time with him before the rose ceremony. I was Team Bibiana all the way, but unfortunately she was eliminated shortly after.
As for Kevin Wendt, Americans won't be as familiar with him yet. Kevin was on Season 1 of The Bachelorette Canada back in 2016. The lead was Jasmine Lorimer, a hairstylist. Kevin actually won at the end of the season and got engaged to Jasmine... but as what sometimes (OK, most of the time) happens on The Bachelor stateside, the two broke things off.
Kevin and Jasmine split five months after The Bachelorette Canada finale, and announced it on their respective Instagram accounts. "Our differences and the physical distance have taken a toll on us and a couple of months ago, we decided to end our relationship and take some time to work on ourselves individually," said Jasmine in an Instagram caption — the photo was of a beach at sunset, very symbolic. She continued, "We have attempted to do this privately but that has proven to be much more difficult than we anticipated. There are no hard feelings between the two of us."
On Kevin's Instagram, he said pretty much the same thing: "Im [sic] sad to share, at this point in our lives we have decided that it is best we go our separate ways." Now, Kevin is back on the market and was quick to find someone he's interested in: Bibiana. Bibiana, too, was super interested in Kevin from the start. The two seemed to hit it off on the first night and when Kevin won a date card the first game (the biathlon, an amazing choice) he chose to use it on Bibiana.
As Bachelor Nation (excuse me, World) knows, these relationships that form pretty quickly don't always last. So are Kevin and Bibiana still together? I've looked at their social media accounts and there doesn't seem to be any clues about it. Bibiana hasn't even shared an Instagram photo about the games yet; while Kevin has, it's only been a countdown to the premiere and a cute photo of him and fellow contestant Luke Pell together. Granted, it's early yet, but considering that The Bachelor Winter Games will not have as long a season as, say, Bachelor in Paradise, this is a time crunch here.
From the premiere, it seems that Kevin and Bibiana are just in the first stages of dating. I know The Bachelor tends to condense what could be a years-long relationship into a few weeks, but it still may be too soon to tell if they're still together.
Check out Romper's new video series, Romper's Doula Diaries:
Watch full episodes of Romper's Doula Diaries on Facebook Watch.