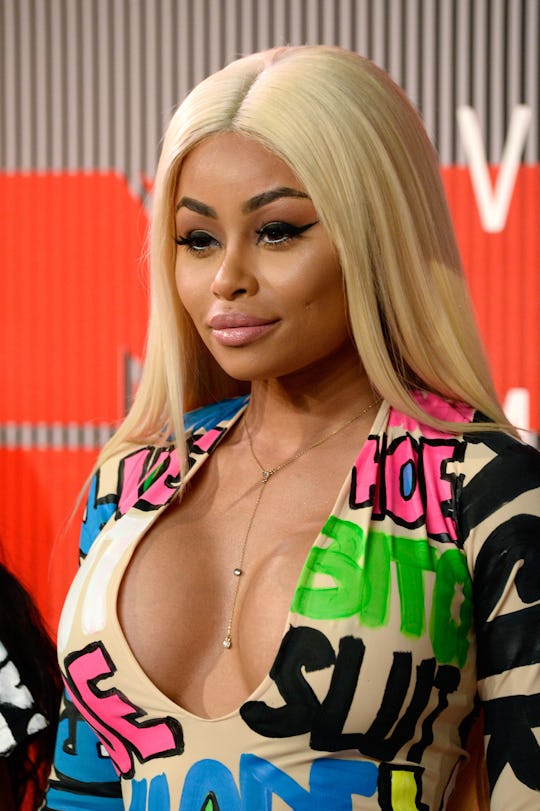 Frazer Harrison/Getty Images Entertainment/Getty Images
Are Blac Chyna & Rob Kardashian Really Engaged? There Are Some Suspicious Instagram Pictures Up
The world is going wild as the latest Kardashian engagement rumors swirl. In a couple of Instagram pictures, Blac Chyna has been snapped wearing a hefty diamond ring. In one picture with boyfriend (fiancé?) Rob Kardashian, Chyna even captioned the picture, "YES !...!...!" But are Blac Chyna and Rob Kardashian really engaged?
There have been no official statements yet from either Chyna or Kardashian, and the Kardashian clan has remained frustratingly silent on the possible news. However, some signs strongly point to the possibility of this being the real deal. Chyna's friend Amber Rose tweeted, "Congratulations to my Family!" and tagged both Chyna and Kardashian, including several emojis of engagement rings. Rose also took to Instagram, where she wrote: "Pease don't let nothing or no one tear u guys apart! I never seen my sis so happy and I couldn't be more happy for her! Sometimes we find love in the strangest places. Lol God Bless you 2! Now let's get this wedding together so y'all can start making some babies."
Okay, so we have a few Instagram shots suggesting an engagement and confirmation from a close friend — so why all the suspicion regarding whether this is the real deal? In all fairness, it's understandable that people are waiting for official confirmation, since they've been through this guessing game before. Back in February, fans got excited about a possible engagement when Chyna started wearing a very sparkly ring on a certain finger and captioned a shot of her and Kardashian with "Missing Bae," alongside an engagement ring emoji, according to ET.
Chyna and Kardashian have also only been dating for four months now, so if the engagement rumors are true, the couple is definitely kicking it into high gear quickly. The Kardashian-Jenner group and Chyna also have an interesting history: Kylie Jenner, Kardashian's sister, is dating Chyna's ex-boyfriend (and father to her child, King) Tyga.
Needless to say, if both new pairings work out, family gatherings might be a little awkward for a while — a fact that hasn't been lost on fans. Twitter blew up on Tuesday with questions about the rumored engagement and a few humorous tweets about the possibilities it could bring.
If this engagement is the real deal, then all the best to Kardashian and Chyna. In the past few months, they've seemed to be incredibly happy together. I also have a feeling that Chyna and Kardashian fans alike will be stoked to see more of Chyna on Keeping Up With the Kardashians. Televised wedding, anyone?