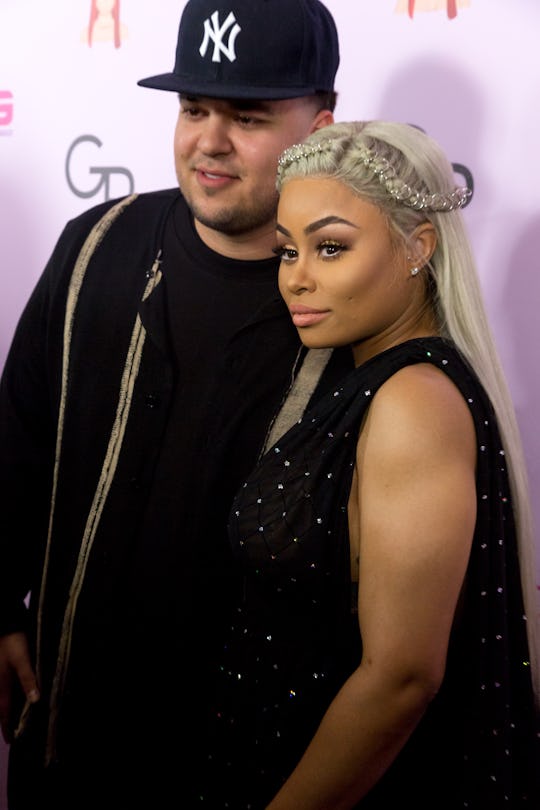 Greg Doherty/Getty Images
Are Blac Chyna & Rob Kardashian Still Together? The 'Rob & Chyna' Baby Special Was Sweet
Rob Kardashian and Blac Chyna already have several reality series seasons worth of drama behind them as it is. But now, just a month after their daughter Dream was born, rumors are swirling once again that they're broken up. So are Blac Chyna and Rob Kardashian still together? The Rob & Chyna baby special, which aired on Suday night, was adorable, but who knows whether all these good vibes and warm and fuzzy feelings are going to last?
Because Snapchat is the go-to method of communication for all Kardashians, Rob recently posted an emotional video on the social networking app, explaining that Chyna had taken their baby, Dream, and emptied out her nursery and left him. He followed up his sad Snap with an even longer post on Instagram, in which he wrote, "My baby girl is 1 month old and Chyna took her and left this beautiful home that I just bought for us. Right before Christmas. Someone I have given my all too...I Loved every inch of that woman and loved everything that came with her. I truly loved Angela. I gave everything I owned for her. Didn't know I was just part of her plan. I really believed she was in love with me the way that I was with her and I am so hurt and never felt this before. It's different when you have a kid with someone. And after reading Chyna's messages to her best friend she was going to drop me after a year..."
Earlier, posts appeared on Chyna's Instagram that appeared to be screenshots of texts between herself and her best friend about leaving Rob after a year. Chyna claims the messages were extremely old and that her Instagram was hacked. She, of course, responded to Rob's Instagram post with a post of her own.
She wrote:
Honestly it's only so much a person can take...Everyone has tried to help Rob. I've gone beyond to help & so has his family! He's been diagnosed and clinically depressed for 4yrs. I'm done with the situation until he gets help. I have no longer have time to feed into Robert's shenanigans I have 2 children & myself to fend for. What hurts the most is watching him do this to me knowing my last situation and promising to never put me through it. Especially after our child is only 1 month. I hope he gets the medical help he needs. If you have ever dealt with a bipolar/depressed person you unders[tand].
It now has begun to feel a bit like being in the middle of a friend's fight with their significant other. You feel like you shouldn't be hearing what you're hearing, but you're also riveted. This family hasn't gotten famous for being incredibly private, but it's still a lot to take in. So are they definitely broken up?
Well Rob and Chyna has been renewed for a second season, so something tells me they'll be back in action soon enough and that this is just another obstacle the duo is able to overcome.