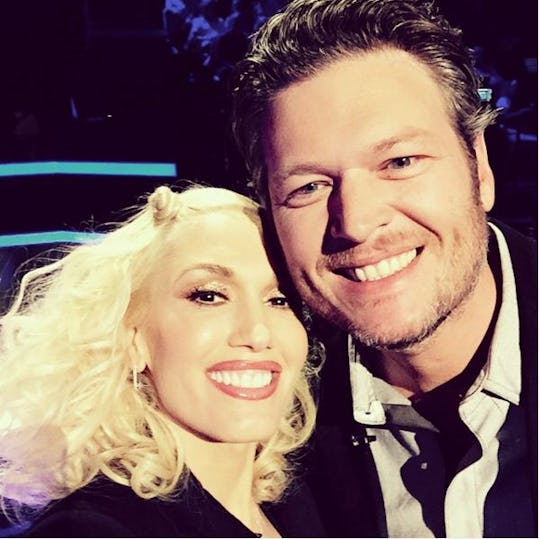 Are Blake Shelton and Gwen Stefani A Couple? 4 Reasons Why They Should Be
Hold onto yourselves: the rumors that Blake Shelton and Gwen Stefani are dating might be true, after all! E! Online and Us Weekly are both reporting that the pair spent the Halloweekend together, attending parties thrown by George Clooney, Jared Leto, and Adam Levine. And there are even some super low-quality photos that may show Blake and Gwen canoodling at Levine's party.
Stefani and Shelton have been judging The Voice together since April 2014, and appear to have grown close quickly. Shelton announced his divorce from Miranda Lambert in July 2015, and Stefani announced her divorce from Gavin Rossdale just two weeks later.
On Wednesday morning, Stefani appeared on Ryan Seacrest's radio show. When asked if she was dating Shelton, she refused to answer, but did confirm that she thinks "he's hot." Later, when Carson Daly covered the incident for the Today Show, his co-hosts practically begged him for the inside scoop (Daly also hosts The Voice). Daly tried, unsuccessfully, to change the subject, before stating, "Even if I knew something, I wouldn't say."
I'm not one to speculate, but those two are so dating, right? I mean, not that it's any of our business. But if they're not, they definitely should. Here's why:
The Voice Would Be Much More Interesting
Oh, look, it's like American Idol, only there are teams, and spinning chairs, and a different bland white guy hosting it. Yawn. Now imagine if there was a real life couple on the show, constantly bickering and making the contestants uncomfortable by saying things like, "That was a great audition, Jordan. Say, do you ever buy whole milk when your girlfriend specifically asked you to pick up vanilla almond milk? No? How interesting…"
He Can Teach Her What a Real Cowgirl Looks Like
Gwen, honey, you are doing cowgirl wrong. Those fluffy Kardashian lashes would get all coated in dust on the trail in no time. And someone of your complexion should know better than to have your shoulders exposed like that. You're just asking for melanoma. How are you going to take care of your cows when you're too busy getting skin biopsies, Gwen? Think about it!
Opposites Attract
He's a little bit country, she's a little bit nineties alternative with ska influences and then later dance pop. He plays the guitar, her makeup is always flawless. Do you realize what that means? If they had a baby, and that baby was a girl, she would probably grow up to be the next Taylor Swift. We're going to need a replacement Taylor Swift eventually, you guys. Just saying.
The Best Reality Show Ever
Blake and Gwen have very different hobbies; he has a farm, and she once had an entourage of Japanese women that she hired to follow her around. What would happen if they put Blake, Gwen, and the Harajuku girls in a cornfield? Pure awesomeness, that's what.
Good luck, you two crazy kids. The world is ready to embrace you as a couple, whenever you're ready to come out. Now we just need to come up with a name. Gwelton? Shefani? I'll think of something, I'm sure.
Images: NBC Universal; Gwen Stefani/Instagram (2); Blake Shelton/Instagram