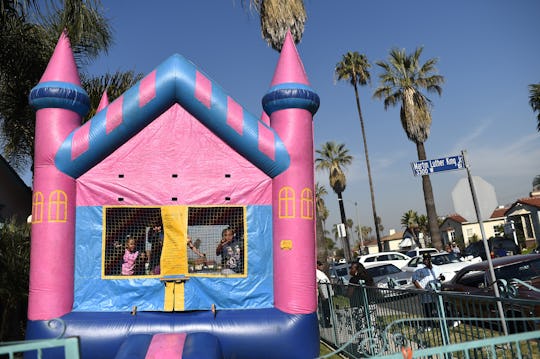 ROBYN BECK/AFP/Getty Images
Are Bounce Houses Safe? A Terrifying Video Has Parents Worried
A terrifying scene from a child's birthday party has gone viral, stoking parents' deepest fears over the safety of inflatable bounce houses. A New York family this week released a 30-second video of a bounce house hitting power lines as a gust of wind carried it off the ground and towards a transmission tower, according to an ABC News report. Thankfully, the house was empty at the time, but the incident has caused concern for parents as it once again brought up questions about whether inflatable bouncers are safe for outdoor use.
According to a local news report, the family was enjoying a backyard party when the inflatable house was swept off the ground by a gust of wind. A nearby homeowner caught the incident on camera, as the house floated over the area and landed on a nearby transmission tower. A representative for energy company National Grid told KXAN-TV that the inflatable didn't cause any power outages in the area, though the clip captured sparks coming from the (thankfully empty) inflatable bouncer as it hit power lines.
The outcome could have been far worse, according to safety data on the American Academy of Pediatrics website. Between 1990 and 2010, some 64,000 children received emergency room treatment because of bouncer-related injuries, according to the website. The AAP reported that most injuries were due to poor installation and falls.
But while the recent incident didn't cause any injury, people who caught the clip on social media questioned how such a thing could happen and whether it's possible to ensure that inflatable bouncers posed no hazards to kids.
Comments on news story posted to the ABC News Facebook page showed that despite the warnings, people still have pretty mixed views about inflatable bouncers. In a Facebook comment, Leandra Roberts said that with proper precautions, the structures shouldn't pose a risk:
It's really people not using their brains. There are stakes to put in the ground and if winds pick up,loosing air, or raining your supposed to deflate. If people would simply use their brains and follow contract rules kids could have fun. No need to ban them over a few idiots!
Facebook commenter Keegan Dougherty seemed to agree:
You are supposed to stake them down with at least 3 foot tent stakes. Also if winds reach 15mph you are suppose to turn them off. Companies who don't do this make inflatables look dangerous when in reality they are safe when used and setup properly.
Still, others called for bouncers to be outlawed outright. Facebook commenter PJ Fischer wrote, "Seriously? How many times do I have to hear about this kind of story before they are banned. And yet the parents keep renting them." And Sophia Cooper Collins posted: "I've seen this too many times. Those things need to be chained down or something, it's scary."
On its website, the AAP said parents are right to be concerned and should use extreme caution when allowing children to play on inflatable bouncers. "Just like the trampolines, bounce houses are NOT safe," wrote Kathleen Berchelmann in a blog post on bounce house safety for AAP website HealthyChildren.org. "Strong winds and poor anchoring can result in either the sets collapsing or becoming air-borne, which can cause series [sic] — sometimes fatal — accidents."
In the AAP post, Berchelmann warned parents to follow installation guidelines closely, including manufacturer advice for proper placement and anchoring. She added that it's also a good idea to check accident and incident records when securing a rental and ask the supplier whether the inflatable has been recently inspected.