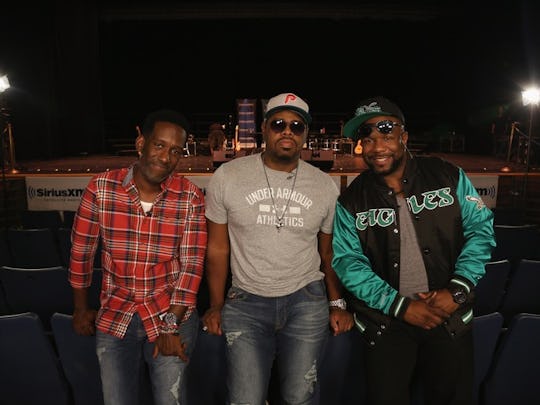 Bill McCay/Getty Images Entertainment/Getty Images
Are Boyz II Men Still Together? The Group Will Star In 'Grease: Live'
In a strange tale of worlds colliding, R&B group Boyz II Men have joined the cast of Fox's Grease: Live. The three singers, Nathan Morris, Wanya Morris, and Shawn Stockman, will split the role of Teen Angel, originally portrayed by Frankie Avalon in the 1978 film. They'll be performing the song "Beauty School Dropout." Some fans (not me, but some fans) haven't thought about Boyz II Men since the early '90s, and so many are wondering if Boys II Men still together. Hell yes, the group is still making music.
While some fans forgot about about Boyz II Men after they graduated middle school, they've never gone away. Often thought of as a '90s band (they did release three platinum albums in 1991, 1994, and 1997, according to Forbes), the group continued churning out records throughout the 2000s, albeit less successful ones. In fact, Boyz II Men have released eight albums since 2000 (two gold) most recently Collide in 2014. In fact, they're actually the most successful R&B group of all time, according to Billboard.
In 2007, the group released Motown: A Journey Through Hitsville USA, a cover album of classic motown hits such as "Just My Imagination," "It's the Same Old Song," and "Mercy Mercy Me," which earned them two Grammy nominations in 2009 for Best R&B Album and Best R&B Performance By a Duo or Group With Vocals, per Hitfix.
Boyz II Men also toured with the New Kids on the Block and 98 Degrees in 2013, and the group has had a residency at the Mirage in Las Vegas since 2013. In November 2015, the Las Vegas Review-Journal reported that the residency was extended and will run through 2018. In between appearances at the Mirage, the group also still tours nationwide and will undoubtedly be pulling me up on stage at the Twin River Casino in Rhode Island this summer to serenade me. Hey, it could happen!
If fans can't make it to a show, there's always the next best thing: the Boyz II Men has partnered with Roseshire to sell some very sexy luxury roses. What better way to say "I'll Make Love to You" this Valentine's Day than with "24 hand-manicured roses," as well as a card that's been signed (not stamped; actually signed!) by all three members of Boyz II Men? It'll run you $189, which is only $70 more than what 1-800-Flowers is currently charging, and once you factor in shipping, you'll only pay an additional $52 for a card signed by Boyz II Men. Totally worth it.
Images: Bill McCay/Getty Images Entertainment/Getty Images; Giphy