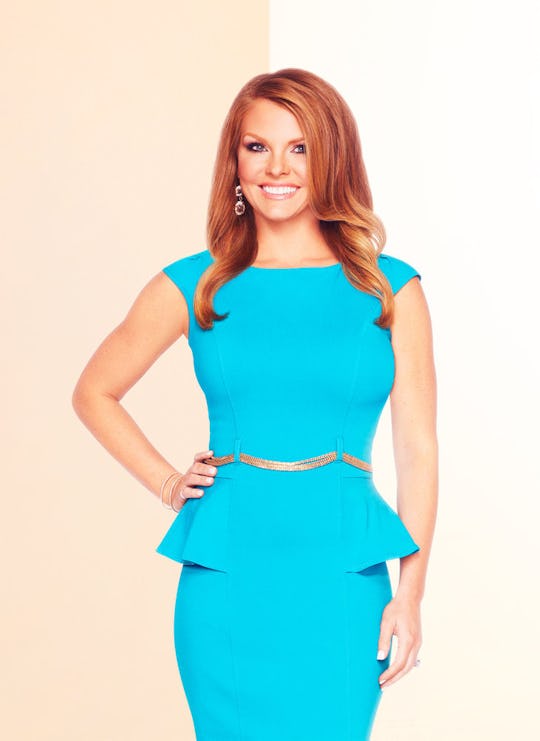 Michael Larsen/Bravo
Brandi & Bryan Redmond Have Faced Some Marriage Struggles On 'RHOD'
Real Housewives of Dallas is returning for a second season and from the looks of the trailer, the show is making a firm pivot away from ~the charity scene~, hopefully with some more exciting results. The first season was a little sleepy, with monotonous fancy philanthropic events and an odd class rift among the women, which felt somewhat out of place for a Real Housewives franchise. One of the most heartbreaking storylines on Season 1 belonged to Brandi and her absentee husband whose marriage almost fell apart. So are Brandi and Bryan Redmond still married? The Real Housewives of Dallas couple pulled through in the end.
What seemed like a very close best friendship between Brandi and fellow castmate Stephanie Hollman at the beginning of the series quickly gave way to reveal Brandi's profound loneliness. Her husband Bryan traveled a lot for work and as Season 1 unfolded, she began to disclose more and more how unsupported she felt in her marriage. It became clear that Stephanie was more than just a reality show best friend — she was essentially Brandi's entire support system during a very alienating time. To her credit, Brandi decided to use the show to confront the problems in her marriage head on. Unfortunately, things didn't really go as she expected.
When she confronted Bryan with her feelings, he had pretty much the worst reaction imaginable: he abandoned her yet again. He literally walked out of the restaurant they were sitting in on a date and said he was "done." Later, during the reunion show, viewers learned that he threatened Brandi with divorce after the episode of her dancing on stage at a strip club aired. It seemed like a pretty dark situation, and we all know that the Real Housewives franchise can be a death knell for marriages.
Luckily, Brandi and Bryan seem to be making it work for now. We'll probably get a glimpse into their reconciliation and work-in-progress marriage as part of Season 2, but her friendship with Stephanie didn't exactly survive the turmoil unscathed. The trailer for next season shows some tension between the two because Stephanie voiced her concerns about Brandi's marriage on camera last year. It looks like Brandi took that as some kind of betrayal by her best friend, even though Stephanie seemed to be coming from a place of genuine heartbreak for her friend's situation.
For her part, Brandi told People last year that she and her husband have both learned a lot from the experience. She says he's been learning the value of family time and they've both been communicating better. He also apparently apologized for his behavior and sees the impact of his actions when fans approach the family to openly criticize him in front of his kids.
We'll just have to wait for the Season 2 premiere to see if everything really is as rosy as her social media is making it seem. Real Housewives of Dallas premieres on Monday, August 14 on Bravo.