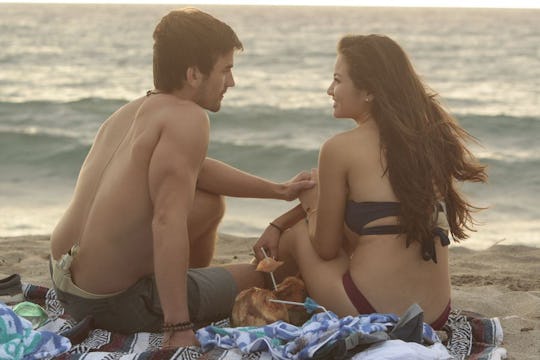 Rick Rowell/ABC
Are Caila & Ashley Friends After 'Bachelor In Paradise'? That Depends On Who You Ask
The only truly devastating love triangle we've seen on Bachelor in Paradise Season 3 so far is the one between Caila Quinn, Jared Haibon, and Ashley Iaconetti. Jared arrived first, followed by Caila, who he immediately dug and asked on a date, followed by Ashley mere hours later, who had come specifically to rekindle her flame with Jared. (P.S. That's cold, producers.) But the thing that was most upsetting about it for Ashley wasn't necessarily that Jared was unavailable; it was that Caila had promised her she'd never go for Jared. So are Caila and Ashley friends outside of Bachelor In Paradise? Well, they were before the season started.
The contestants of The Bachelor/Bachelorette franchise are sort of one big happy family. They have the bizarre, but unique, bond of all going through the same weird nationally televised group dating experience, and they appear at various Bachelor Nation events together all the time. So tons of cast members across various seasons are friends with each other IRL. Such was the case with Caila and Ashley, who had met before Bachelor in Paradise and hung out several times. They were friends. Ashley claimed on the show that, during these hangouts, she had confided in Caila that she was scared for Jared to meet her because she was sure he'd fall for her. Caila assured her that Jared wasn't her type and if she ever got the chance to meet him, she'd never go for it. Solid girl code, right?
Except then Caila got to paradise, immediately turned into a human heart eyes emoji upon seeing Jared's face, and kind of dusted any chance at friendship she and Ashley ever had. I believe "backstabbing whore of a friend" is how Ashley referred to Caila. For her part, Caila confirmed that Ashley's account was true in an interview with People.
"She and I had a conversation before, that she had very strong feelings for him, and I promised, no matter what, I wouldn't go on a date with him. But there's something about when you meet someone for the first time, you're attracted to them, you want to give that a chance. This show is ultimately about love. So I went for that."
She also called Ashley "a good friend" in that interview, but Ashley seemed pretty aggressive and decidedly unfriendly toward her in paradise. Ashley has yet to speak out on the state of their relationship post-show, but Jared offered up this gem in an interview with Glamour: "I don't think they are painting each other's toenails, let me say that."
Ouch. It seems like things between Caila and Ashley are probably polite, but chilly these days.