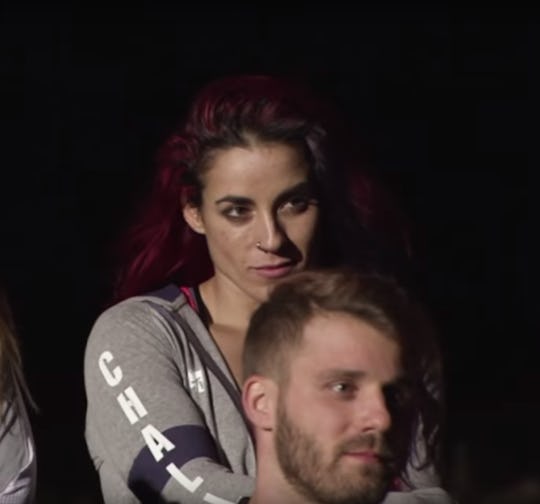 MTV/Youtube
Things Are Heating Up Between Cara Maria and Paulie Calafiore From 'The Challenge'
Reality TV fans always love a good romance, even if it involves a scandal or two. So when rumors began swirling that two well-known cast members of MTV's The Challenge: Final Reckoning were hooking up, fans went on a social media hunt to look for confirmation. But because the two veteran reality stars have been pretty good at keeping each other off their Instagram pages, fans are dying to know, are Cara Maria and Paulie Calafiore from The Challenge dating? Well, it looks like they are finally coming clean about their relationship.
In a Watch With Us podcast for with US Weekly, Cara Maria confirmed that she is dating Paulie, and that she's enjoying the time she spends with him. "When he's with me, he's hands on. Holding my hand, telling me I'm beautiful even when I'm disgusting first thing in the morning," Cara said. "I haven't had anybody treat me like he does, which is amazing." She even talked about how hot and steamy their relationship is, calling their chemistry "electric." "I've never been with anybody in the bedroom like him," she added. "You can feel the adrenaline pouring out of his skin when we touch."
As a fan, you might be thrilled or upset about the romance, because as most things go with reality TV, this relationship comes with a fair amount of baggage. Paulie started dating Bachelor and Bachelor in Paradise alum Danielle Maltby back in January, and had been pretty candid and open about his relationship. But he was still with Danielle when he went on the show and started hooking up with Cara.
In an interview with MTV, Paulie revealed that he never had the chance to tell Danielle, because he didn't have access to his phone while filming in South Africa. "As soon as I got my phone, I let [Danielle] know that I had messed up royally, but I was going to continue doing what I was doing and that our relationship wasn't going to work," said Paulie. A rep for Maltby told E! News that she was "blindsided" by this news, and is "devastated" and "hurting tremendously." Some fans took to Twitter to express their outrage over the whole situation:
But most people who have been following Paulie aren't surprised by his infidelity. When he was on Big Brother back in 2016, he allegedly entered the house while engaged, and then cheated on his fiancée. More recently, Paulie took to Twitter in a PSA style rant to defend himself, tweeting, "For now I can't be monogamous to one person, I've tried and it doesn't work."
He went on to say that he does fall for multiple women for different reasons, but not with any bad intentions. "I don't mean to hurt these women because other than infidelity, I treat them like gold," he tweeted. "Right or wrong this is who I am and I admit it. I do not care about being hated, I'm not here to please people or be your golden boy."
Cara is a tough girl, and I have a feeling she knows what she's getting into. During the US Weekly podcast, Cara said Paulie gives her freedom to do whatever she wants and doesn't get jealous. I don't know if this means that they're in an open relationship, but Cara did also say that while she likes being with Paulie, she wants to hang on to the notion of being free. "I'm enjoying it, but I still am holding on to that 'I need to be single' and I want to be single, but he's really, really great."
So will Cara and Paulie's relationship turn into a committed one, or even lead to marriage? It's hard to tell at this point, but you will be able to see exactly how their romance began on the new season of The Challenge: Final Reckoning which premieres on Tuesday, July 10 at 9 p.m. ET on MTV.