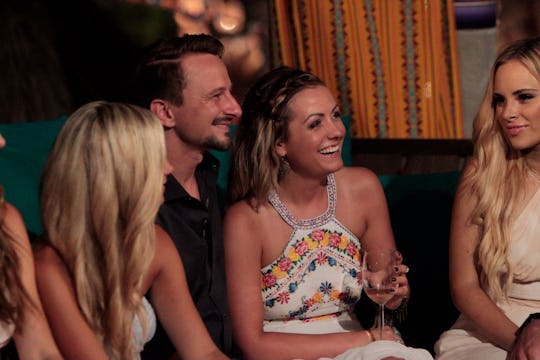 Rick Rowell/ABC
Are Carly & Evan Engaged After 'Bachelor In Paradise'? The Stars May Have Reconnected
Despite the fact that their first kiss was a disaster and their second kiss ended in actual vomiting, Carly and Evan have weirdly reconnected on Bachelor in Paradise. "Weird" is all Carly seems to have to say about it, because she's as confounded by their connection as anyone else is. After weeks of back and forth as she tried to figure out if she was really, truly interested in him, a bout of manipulative fake illness from Evan pushed Carly over onto his team. They've been solid ever since (even if Carly is still totally puzzled by the entire situation), but have they stayed together since BiP ended? Are Carly and Evan engaged after Bachelor in Paradise?
The season finale promises three engagements; Josh and Amanda seem like a sure bet for one of them, which leaves two spots open. Lace and Grant are potentially headed for engagement too, leaving two other solid couples open as options. Nick and Jen won't be getting engaged because he was recently announced as the next Bachelor, leaving Carly and Evan as the best bet. As unlikely a duo as they seem at times, Carly and Evan getting engaged would seem to make sense at this point in their relationship. Evan definitely seems ready to jump into commitment, at least; Carly is, as usual, something of a question mark.
Even social media has made things between Carly and Evan seem uncertain. Back when the episodes airing were all about how repulsed Carly was by him, Evan squashed inquiries about a brewing romance between them and even tweeted a charming, "Screw you, Carly," that has since been deleted. It seems in line with Evan's sense of humor to try and throw people off the track with misleading comments, and since their relationship took a turn on screen he's certainly been more positive about everything.
And Carly's feelings might be less uncertain than they initially seem. She tweeted that falling in love with Evan was "a good feeling," making it seem like things are still going well between the couple. She's also apologized for the meaner things she said about him, copping to the fact that her comments were "more asshole than funny," though that is, of course, a fine line.
It would be easy for Carly and Evan to stay in touch post-Paradise too because they both live in Nashville, and some have even spotted a kitchen background in one of Carly's Instagram photos that might belong to Evan's kitchen. From the way they're talking about their relationship, it certainly looks like they're still together, so even though Carly's about-face was about as abrupt as it could get, it seems likely that they are engaged.