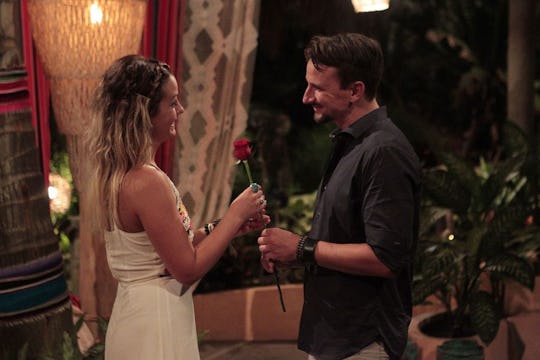 Rick Rowell/ABC
Are Carly & Evan Still Together After 'Bachelor In Paradise'? They Seem Happy Together
This season of Bachelor in Paradise has been one for the books. Couples that seemed solid were unexpectedly ripped apart – I'm still not over that Vinny/Izzy breakup, to be honest. Other couples that seemed unlikely to go the distance wound up making it all the way through to finale night. One of the pairings falling into the latter category is Carly and Evan. Initially, Evan was super into Carly while the blonde songstress wasn't feeling it at all. Eventually, they managed to get on the same page and find love, but are Carly and Evan still together after Bachelor in Paradise?
Obviously, we won't know for sure until the finale airs and the contestants are allowed to reveal their current relationship status, but it's looking surprisingly good for Carly and Evan. The two certainly had one of the rockiest roads to romance that we've ever seen on any Bachelor Nation series. Recall that, initially, the two were friends, but Carly felt no romantic chemistry with Evan whatsoever – try as she might to be into him, their first kiss fell flat and their second kiss made Carly vomit on national television. She also broke up with him multiple times. Not exactly a harbinger of an engagement and lifelong marital bliss.
But ever since Carly and Evan had their unexpected ER "date" when Evan got sick, things completely turned around for these two. Carly embraced Evan's "weirdness" after noting that he embraced hers and voiced that she was actually really excited to meet his kids – a huge step. The two are now one of the final four couples heading into the finale and potentially getting engaged to be married.
If Carly's and Evan's social media accounts are any indication, the two are almost definitely still together post-Paradise. They haven't shared any photos together – unsurprising, since that would be almost too much proof that they made it through – but the two can't stop gushing about one another on Twitter and Instagram. Most adorably, Carly can't believe she actually fell in love with "the penis man."
Evan, for his part, was always 100% clear on his feelings for Carly and basically just waited for her to come around. He also weathered the earlier episodes of the season, when he looked kinda like a doofus pursuing a woman who clearly wasn't into him, with a lot of calmness and grace on social media. And the two did not let on at all that they were together IRL while the earlier episodes were airing. But Evan's chill and self-deprecating reaction to being mocked on Twitter makes a ton more sense knowing that he (probably) got the girl in the end, anyway.
On top of all of the social media clues that the two have made it work, Carly actually gave an interview to Glamour where she confirmed that she was truly, madly, deeply in love with Evan, in no uncertain terms. She told the interviewer, "I am super in love!" Note the tense there – she *is* super in love with him. Carly also noted that she and Evan are "completely on the same page feelings-wise," which is a contrast from her Bachelor in Paradise Season 2 failed romance with Kirk.
In the same interview, Carly also explained that it's basically already set that she'll meet his kids post-finale.
And then as soon as I get back from San Diego, we are going to set something up where I can meet his kids, obviously. I told him I was nervous, and he said, "They're going to love you!" I'm just so looking forward to it. I can't even stop smiling about it; I'm so excited!
So even if the two don't get engaged on the finale, it seems like something is definitely still there between the two – or Carly is pulling off the single greatest Bachelor romance charade of all time.