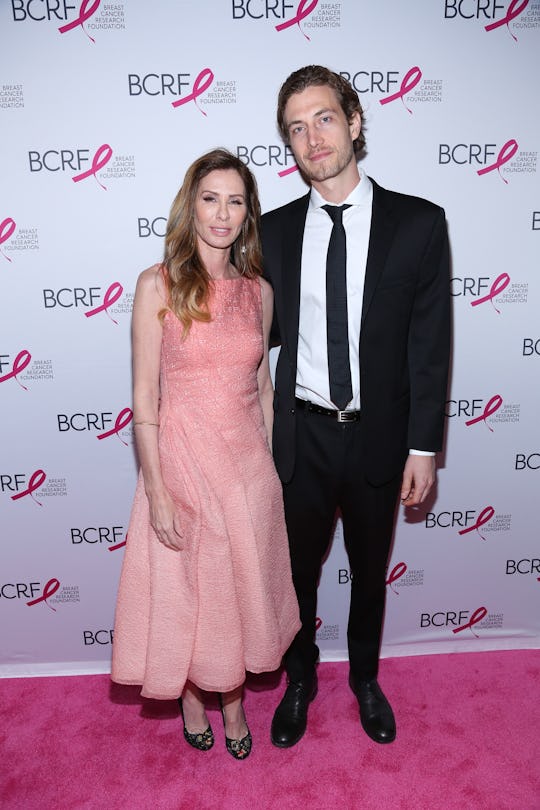 Rob Kim/Getty Images Entertainment/Getty Images
Carole & Adam Are Still Going Strong On 'RHONY'
One of the strongest relationships on Real Housewives of New York continues to be one of the more loosely defined. Despite mounting pressure from outside sources, a brief cohabitation period identified as "shacking up" but certainly not "living together," and near-constant speculation from onlookers that Carole Radziwill isn't being completely honest with herself about how much she likes her boyfriend, we still see the couple playfully interacting on Season 9 of Real Housewives of New York. So are Carole Radziwill and Adam Kenworthy still together? Judging from recent photos of them on a tropical vacation together, they sure are.
Page Six spotted the RHONY couple on a trip to El San Juan Resort in Puerto Rico just last month. Sources said that "they danced all night" and "they were very loving," engaging in some beachside PDA, playing in the pool together, going to a couple's massage, and attending the birthday party of businessman Michael Capponi in the hotel's newly redesigned lobby. So unless something terrible has befallen the couple in the last two weeks, we can assume they're still going strong.
Just don't badger them into calling their relationship anything other than what it is. After a brief period of living together raised a few eyebrows, Carole went on the record to reveal that Adam was only crashing with her for a few months while he looked for a new apartment. In fact, the setup seemed to be getting on her nerves more and more the longer he stayed, but they are now peacefully living in their own separate spaces once again.
Honestly, Carole and Adam are one of the best representations of a non-escalator relationship on TV. The term originated in alternative relationship circles to describe a couple who doesn't aspire to move up the "escalator" of traditional relationship milestones: dating, then exclusivity, then moving in together, then engagement, then marriage, then kids. As she's insisted time and again to seemingly baffled producers in confessional interviews, she and Adam simply aren't interested in living together, getting married, having kids, or moving their relationship past anything other than loving each other and boyfriend/girlfriend titles. Unfortunately (and like the best of us), Carole still sometimes struggles with the pressure of societal expectations. She said on the show:
There is something about a two-year thing. Like the first year, it's great and then you settle in and it's two years and then you've got to do something like to jack it up. But I don't want to be married. I don't want that and he doesn't either. So, we're just like, 'What are we doing?'
But at other times, she's shown total faith in her judgment and ultimately, she seems to know that she's doing the right thing for her. You can continue to watch Carole and Adam's relationship unfold this season on Real Housewives of New York Wednesdays on Bravo.