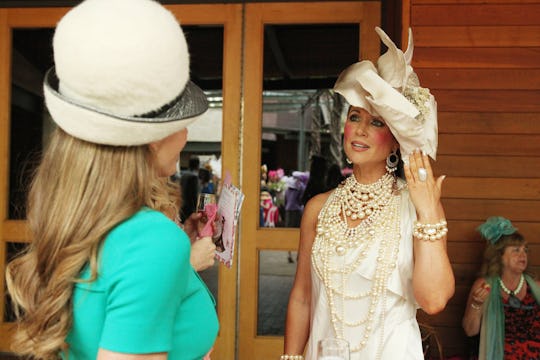 Bill Matlock/Bravo
Are Cary Deuber & LeeAnne Locken Friends? The 'Real Housewives' Stars Have Trust Issues
LeeAnne Locken has spent most of The Real Housewives of Dallas' first season butting heads with the other women on the show due to her loud personality and very, very clear-cut ideas about how charity works. Her friction with Brandi Redmond started early and carried through most of the season, but now that they've attempted to reconcile and move on, conflict is beginning to crop up elsewhere. Cary Deuber and LeeAnne have never quite gotten along, but their relationship has worsened lately. Is there a chance they could make up too? Are Cary and LeeAnne friends?
Outlook not so good. The real trouble started when LeeAnne and her friend Heidi Dillon decided to dredge up some drama about Cary's marriage. They were both convinced that Cary and her husband Mark had cheated together before getting together, and Heidi in particular was offended because she's friends with Mark's ex. It resulted in a seriously uncomfortable (and bizarrely themed) party during which Heidi asked Cary to "give a demonstration" on a corndog. Watching that conversation play out was enough to make anyone cringe. I'm cringing just thinking about it.
It doesn't really come as a surprise that Cary would be unwilling to make peace after all of that, and it looks like things only get worse from here.
Brandi made nice with LeeAnne for the sake of her bestie Stephanie, who wanted to invite LeeAnne to her husband's birthday party. Once there (and at least a little drunk), Brandi was more than willing to crack jokes with LeeAnne, even inviting her along on a girls' trip to Austin. Cary was definitely taken aback by it, because she isn't quite so willing to let everything be water under the bridge. And LeeAnne is definitely aware of that.
In a blog post for Bravo bluntly titled "Cary Hates Me," LeeAnne insists she has no negative emotions towards Cary and that the ball is totally in Cary's court when it comes to their friendship – or lack of it. "I feel like every time I share my story in front of Cary, she thinks I'm fake crying or doing it for attention," LeeAnne wrote. "I've only ever wanted understanding. Watching Cary call me her enemy is heartbreaking, and I feel like there's a wedge now; I don't know how to resolve it."
Cary is struggling to trust LeeAnne, and it doesn't look like she'll be trying to resolve their issues anytime soon. With the promised craziness of the Austin trip coming up, things might get worse between LeeAnne and Cary before they get better.