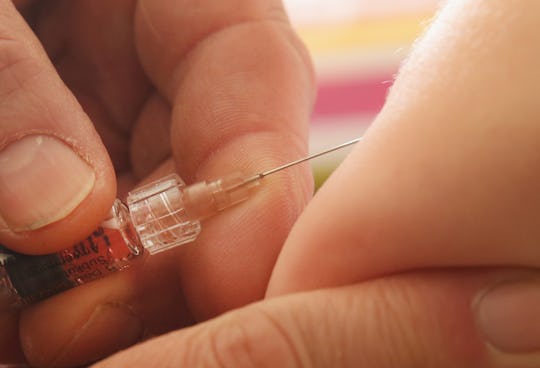 Sean Gallup/Getty Images News/Getty Images
What Parents Need To Know As More Cases Of Measles Are Reported
The Centers for Disease Control and Prevention released statistics earlier this month detailing 124 reported cases of measles across 22 states. Although the CDC later denied the stats were indicative of a measles outbreak — noting that the number is "similar to recent years and in expected range" — any number is still concerning. But a little less than one week after the CDC issued its report, the World Health Organization shed light on Europe's record number of measles cases. In the first six months of 2018 alone, Europe recorded nearly 41,000 cases of measles, according to NPR. So, are cases of measles on the rise? Health officials seem to believe that a lack of vaccinations is at the root of the problem and are urging families to make sure themselves and their kids are vaccinated.
WHO released a statement on Monday via its website highlighting the seriousness of the measles outbreak in European countries. "Over 41 000 children and adults in the WHO European Region have been infected with measles in the first 6 months of 2018," the opening of the statement read. "The total number for this period far exceeds the 12-month totals reported for every other year this decade..." WHO also went on to report that "at least 37 people have died due to measles" in 2018.
As for the United States, there's been a mild increase in cases of measles, though not nearly as drastically as in Europe. Right now, the number of reported cases in 2018 is at 124, while in 2017 there were 118 cases, according to the CDC's statistics. And in 2016, the number dropped to 86. Interestingly enough, the lowest year on record in the past eight years is 2012 — only 55 cases were reported at the time. Although these numbers are nowhere near the spike of cases in 2011 (220) and 2015 (667), these stats are still cause for concern.
But as alarming as these numbers might be, WHO argued the solution to this problem is very simple in its report:
To prevent outbreaks, at least 95% immunization coverage with 2 doses of measles-containing vaccine is needed every year in every community, as well as efforts to reach children, adolescents and adults who missed routine vaccination in the past.
The report hits on an undeniable and important truth. If countries across the globe want to eradicate measles, people need to vaccinate themselves and their children with the MMR vaccine.
Take the measles outbreak in California between Dec. 28, 2014 and Feb. 8, 2015, for instance. The CDC eventually traced back the 110 reported cases of measles back to Disneyland, and its investigation found that 49 out of the 110 patients weren't vaccinated at the time. It's important to note measles "can spread when it reaches a community in the U.S. where groups of people are unvaccinated," according to the CDC's website. In the case of Disneyland outbreak, it spread so quickly because 49 people at the park weren't vaccinated.
Unfortunately, the number of those against vaccinations is on the rise, according to a report from insurance company Blue Cross Blue Shield, and some states make it easy for parents to opt out of vaccinating their kids. Dr. Peter Hotez, a pediatrician and dean of the National School of Tropical Medicine at the Baylor College of Medicine, along with his colleagues, recently conducted a study about this exact problem, as NBC News reported.
"A social movement of public health vaccine opposition has been growing in the United States in recent years; subsequently, measles outbreaks have also increased," Hotez and his colleagues wrote in their report, published in June 2018, according to NBC News.
The paper went on to discuss the rise in non-medical vaccination exemptions, stating, according to PLOS Medicine:
Since 2009, the number of 'philosophical-belief' vaccine nonmedical exemptions has risen in 12 of the 18 states that currently allow this policy: Arkansas, Arizona, Idaho, Maine, Minnesota, North Dakota, Ohio, Oklahoma, Oregon, Pennsylvania, Texas, and Utah.
You don't have to be a medical expert to understand the connection between the growing anti-vaccination movement and the rise in measles cases reported across the globe. Although this situation is undoubtedly frustrating, there are steps you can take to combat this issue. For starters, make sure your child receives their first dose of the MMR vaccine between 12 through 15 months of age, and the second dose between 4 through 6 years of age, according to the HHS' website.
Additionally, don't hesitate to spread the word about why vaccinations are important. Using the widely available statistics and facts about this issue, educate skeptics who might be unaware about the seriousness of this problem.
Lastly, keep an open dialogue with your doctor about any concerns you may have about the increase in measles or issues and questions you might have regarding vaccines. The more information you have at your disposal, the safer you and your family will be.
Measles is a very contagious and potentially life-threatening disease that can be prevented. Hopefully, parents and stakeholders will work together to ensure children across the United States are vaccinated. As medical experts have pointed out numerous times before, vaccinations are the solution to this growing epidemic.