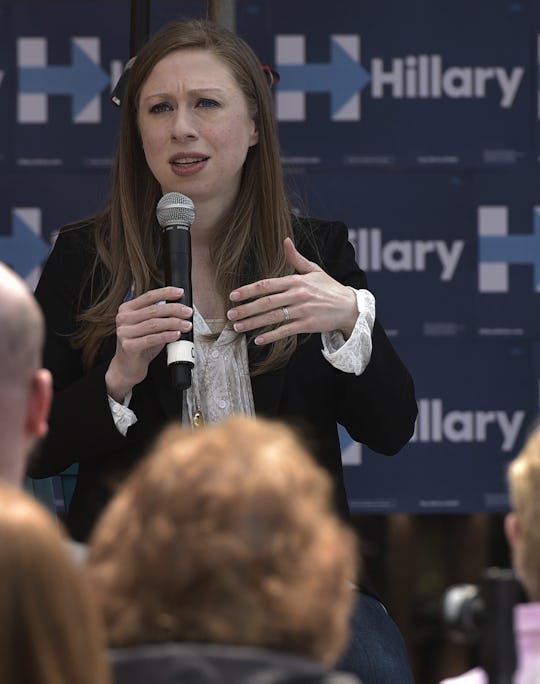 MANDEL NGAN/AFP/Getty Images
Are Chelsea Clinton & Ivanka Trump Friends? Their Relationship Seems Strained By Politics
Chelsea Clinton and Ivanka Trump have plenty in common. Both are working moms of young kids, both have lived very high profile lives as the children of famous people, and both find themselves at the center of one of the ugliest and most contentious presidential elections in American history. Are Chelsea Clinton and Ivanka Trump friends? The two have long had a friendly relationship that, based on recent comments from Clinton, might be a bit strained by politics at the moment.
Chelsea and Ivanka became friends after their husbands struck up a relationship, Clinton told People magazine last September. Eventually, double dates with their husbands grew into a genuine friendship that Chelsea said she hoped the two could maintain throughout the presidential race.
"I'm really grateful that Ivanka's my friend." Clinton told People, calling her a "great woman."
Ivanka seemed to return the sentiment, telling People just this month, "Our friendship has never been about politics," Trump said. "I don't expect it will be about politics in the future."
But that might just be wishful thinking.
From calling Hillary "Crooked" to chants of "Lock Her Up!" from the floor of the RNC, the tone is getting nastier by the minute. And following last week's speech by Ivanka Trump, promising her father will work for equal pay and other women's issues, Chelsea called out the difference between Trump's promises and her father's actual policies.
Chelsea was asked by Glamour Magazine what she would ask Ivanka given the change, and her response seemed to suggest she wasn't buying Ivanka's argument that Trump is pro-woman.
I would ask, 'How would your father do that given that it's not something he's spoken about? Given there are no policies on any of those issues on his website?
And during a TODAY Show appearance on Thursday, Chelsea said she would consider meeting her friend for a "daughters' summit" to talk about the terrible things their parents have said about one another.
"It isn't something that has occurred to me, but it's certainly something I would consider," Clinton said during an interview with Matt Lauer.
She added that Ivanka is obviously proud of her dad, but followed it up with a dig at Trump's tone.
"I don't expect [Ivanka] to always have to defend her father," Clinton said. "I mean, I think it's clear that Mr. Trump is running his campaign and saying what he thinks is important in this election. My mother's not engaging in divisive, bigoted rhetoric."
For the time being at least, the friendship between the two very famous daughters seems to have cooled a bit.