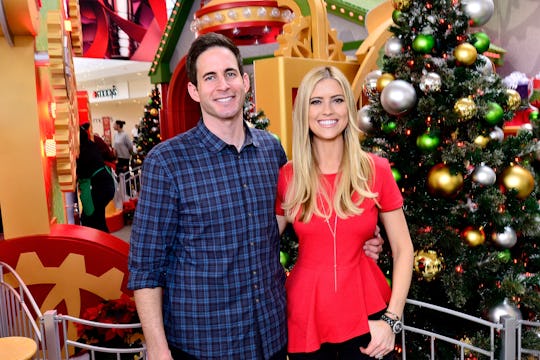 Jerod Harris/Getty Images Entertainment/Getty Images
Will Christina & Tarek El Moussa Keep Working Together?
A very public split in December, followed by copious tabloid headlines, has left fans wondering if Christina and Tarek El Moussa are still working together on HGTV's Flip or Flop, or if one or both of the now-separated hosts will be replaced. Good news: despite their differences, the pair will return for Season 7 of their house flipping reality show. During a February Good Morning America appearance, Christina told host Michael Strahan that working with her ex wasn't difficult: "We worked together before we ever started dating, and it's just— it's our normal. We also run a seminar company together, Success Path, and every five weeks, we go to Vegas together, we're on stage and we have a great time and, you know, we'll always be working together."
Even without the show and the get-rich-quick seminars, the El Moussas would still be bound together by their 6-year-old daughter, Taylor, and 18-month-old son, Brayden. "We'll be together for the rest of our lives because we have kids," Tarek told Us Weekly in March. "We need to get along for the kids and for our sanity." Tarek said that the two share joint custody, and they plan to celebrate holidays and birthdays together as a family.
The couple's separation, originally reported by People, was precipitated by a 911 call from Christina reporting that Tarek had fled their home with a gun. After leading 11 police cruisers and a helicopter on a chase through Chino Hills State Park, Tarek claimed that he had merely gone on a hike, and brought a gun to protect himself from wildlife. The couple later explained in a statement that it had been an "unfortunate misunderstanding," and reiterated that "There was no violence and no charges were filed." Romper has reached out to Tarek's representative for comment.
Flip or Flop showcases the El Moussas' riches-to-rags-to-riches story: they were real estate agents before the housing bubble burst, and business ground to a halt. After drastically altering their lifestyle in order to save money, the couple bought and flipped their first foreclosed home with a business partner in 2010. A year later, Tarek had the idea for a reality show about flipping houses, filmed a demo episode on spec, and sent it to HGTV. The network took the bait, according to The Orange County Register, and Flip or Flop premiered in 2013. The El Moussas have already proven adept at making lemonade out of lemons; they don't plan on stopping now.