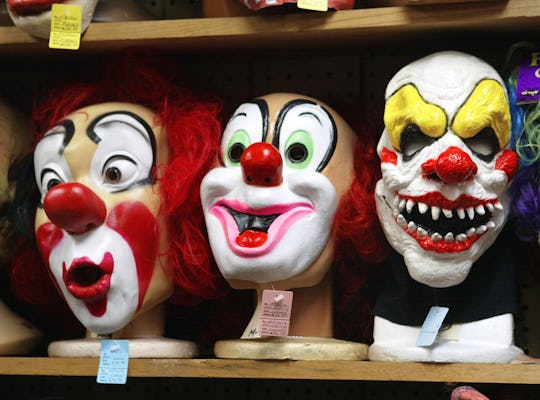 Tim Boyle/Getty Images News/Getty Images
Are Clowns Really Kidnapping Kids? Recent Reports Have Parents Concerned
In the past few weeks, police around the country have been receiving numerous reports of creepy clowns lurking around neighborhoods and, in at least one case, trying to lure kids into the woods. These alarming news reports have many asking the question: Are clowns really kidnapping kids? After dozen of reports from concerned people about white-painted face clowns acting strangely and scaring local residents, police have warned that if the incidents don't stop, those dressed as clowns will face arrest for causing unnecessary alarm.
One of the more recent and disturbing sightings happened just yesterday on Oct. 6 in California. According to local ABC News affiliate KGO-TV, a mother said she had to fight off a man dressed as a clown to keep him from snatching her young daughter from her arms, which she said happened at a bus stop in Concord, California.
The woman told KGO-TV that the man dressed as a clown — who was wearing a blue curly wig, but did not have any makeup on or a mask on his face — allegedly struck up a conversation with her before reportedly grabbing her 1-year-old daughter's arm. The mother reportedly kicked him in the shin twice to get away. Police are still searching for the man.
These concerning reports are being taken very seriously by police officials and have led many to speculate that the clown sightings are possibly a Halloween hoax, or disturbed "copycat" individuals seeking fame, or even a way for Stephen King fans to promote the 2017 movie release of It, about a creepy clown named Pennywise who preys upon young children.
Regardless of the reason for the recent spike in clown sightings, police say it's "not funny" at all.
"If this is a hoax or publicity stunt it is not funny," Greensboro, North Carolina police spokeswoman Susan Danielsen told People. "It is alarming to the public and a drain on police resources. We just don't know at this point, because we haven't had the chance to interview any clowns."
The panic around the country is certainly warranted as the California incident is far from the only clown encounter. On the other side of the country in New York, a school cancelled outside recess after scary-looking clowns were reported in the area. Then in Pennsylvania, an elementary school reported that children were reportedly being chased by clowns. And again in Tennessee, a 64-year-old man dressed as a clown was arrested for allegedly threatening to kidnap children.
While authorities still don't know the reason for this bizarre epidemic, thankfully none of the recently reported incidents have resulted in a kidnapping. And hopefully it remains that way until this clown craze fizzles out or police discover the true intention behind the creepy clowning.
In the meantime, make sure to talk with your children about what is unfortunately happening all over the country right now. Explain important safety rules, discuss some "what if" scenarios, and come up with a plan that works best for your family to keep your children safe.