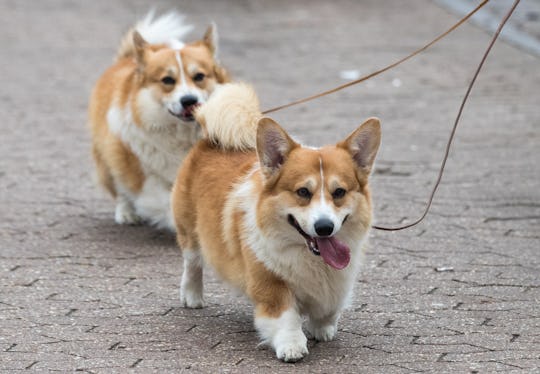 Matt Cardy/Getty Images News/Getty Images
Turns Out, Corgis Are A Great Dog Breed For A Family, Even If You're Not Royal
Whether you fell in love with the breed because you are royal family obsessed or you were once a follower of the late Loki who earned thousands of followers during his time as an Instagram pup, you might be wondering what it would be like to have a Corgi of your very own. After all, they are small, orange and white, and fluffy — what's not to love? But if you have little ones, then you may find yourself asking, are Corgis good with kids? Because you want to make the best decision for your family when it comes to choosing a furry brother or sister.
"Generally speaking, any dog, including Corgis, who are well socialized, enriched, taken care of, and trained will have a temperament that is warm, friendly, and great with kids," Russell Hartstein, the CEO of Fun Paw Care and provider of celebrity dog training in Los Angeles, tells Romper in an email interview. But Hartstein cautions, "It is important to remember that all dogs are individuals. There are no generalizations to be made in any sentient being."
According to Rover, Corgis are one of the top 10 small dog breeds that are great with kids. The website noted that Corgis are "affectionate, sweet, and wicked smart" and "programmed to please," adding that other small breeds that bode well with little ones include Pomeranians, Pugs, and Cavalier King Charles Spaniels.
Other breeds that work best with kids, but aren't exactly small, include Labrador Retrievers, Beagles, Collies, and Dalmatians. Adoption is also a wonderful option, just be sure to take breed, size, age, and disposition into consideration as you are making your decision, suggested DiamondPet.com.
"The best 'starter' breeds also depend on the kind of lifestyle a family leads," Alexandra Bassett, a a professional dog trainer and the owner at Dog Savvy Los Angeles, tells Romper. "[For example,] active breed dogs like Golden Retrievers are known to be affable, loyal family dogs, but also need a lot of exercise and stimulation, so they do well with families that lead active outdoorsy lifestyles."
Also important? Regardless of the type of dog your family chooses, Hartstein says an adult family member should always be present to supervise and teach a child how to pet, walk, respect, play, train, and handle a dog. Children and even adolescents should not be left alone with a dog.
But back to Corgis, you might be interested to learn a few fun facts about the breed, including that, despite their stocky appearance, they are "shockingly fast runners," noted BarkPost. The website also wrote that, "Corgis are the 11th smartest dog breed as ranked by psychology professor Stanley Coren. They are able to learn commands in five to 10 repetitions and 85 percent of the time they obey the command the first time."
Rover.com pointed out that Corgis also make for great watchdogs "because of their attentive nature and slumber-shattering woof." Corgis' short hair means their grooming requires less work than other breeds, which in my opinion, makes them the clear choice because you aren't exactly looking to add more work to your life.
Of course, if you are looking for some Corgi inspiration, then you should check out @ralphthecorgi on Instagram or @corgis_of_instagram for photo after photo of adorable pups wearing sunglasses, snoozing, swimming, and posing amongst flowers. Even author Stephen King's Twitter feed is a source of cuteness where he regularly posts photos of his corgi, Molly, who he lovingly refers to as "Thing of Evil."
Because at the very least, why wouldn't you look at photos of cute dogs? Surely, that kind of scrolling never hurt anyone.