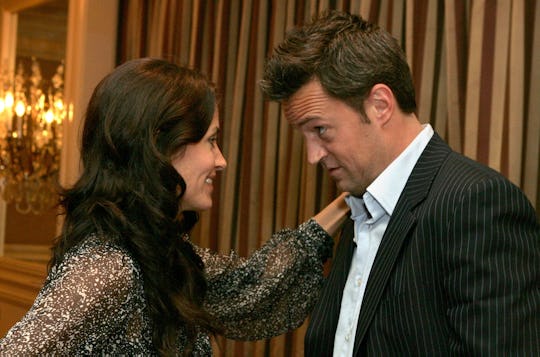 Are Courteney Cox & Matthew Perry Dating? They Clearly Are A Good Match, Based On These Quotes
If you're a fan of Friends, here's a gift that's better than anything a Christmas armadillo could ever give you. According to Star, Courteney Cox and Matthew Perry are dating. The report comes just weeks after Cox and musician Johnny McDaid ended their engagement in December.
OK, so before you start dancing like you have a turkey on your head, keep in mind that this report is merely a report — and a report that comes from a tabloid at that. (As we all know, tabloids aren't always necessarily known for getting it right.) But, still, a Friends fan can dream, right? And whether or not Cox and Perry are romantically involved, the two seem to have a mutual admiration.
On The Tonight Show with Jay Leno, Perry spoke about filming an episode of the sitcom Go On with Cox. "She did the last episode, and it was, we just fell right into place," he said. When Leno asked him if the experience was fun, Perry said:
It was so fun. I realized why I was funny on Friends is I was just showing off for her. She's very pretty, and I just wanted to make her laugh all day long.
OK, so that's promising, right? And in a 2014 interview with Conan O'Brien, Cox spoke about Perry's stint as a guest star on Cougar Town. "It's so great to work with him," she said. "He's so sweet." O'Brien said he thought Perry must be really funny on set, to which Cox replied:
He's so funny. I mean, when I worked with him on Friends, he literally gave me my personality for 10 years. He'd come in with all these things and I just kinda copied him forever.
So, basically, they're already wining in a bubble bath together, right? While the world waits to see if Cox and Perry respond to the dating rumors, Twitter is already freaking out:
Hey, if Ashton and Mila made it happen, I can imagine that this is in our future IRL too, right?
Image: Mark Mainz/Getty